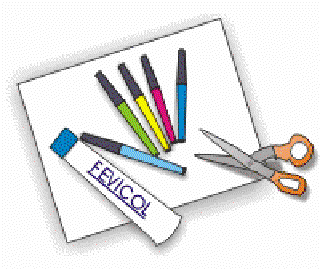 Make a finger puppet for your little sister, and watch her squeal with joy.
Things you need:
Bits of card sheets or thick paper.

Sketch pen or crayons.

Fevicol.

Scissors.
Step 1: Draw the outline of a figure that you want to make a puppet of. It could be a human puppet, an animal, a bird or even inanimate objects like a time piece, or a bucket. Let your imagination run wild. Draw a crazy figure.
Step 2: Colour it and cut out the figure on the outline.
Step 3: Take a strip of paper (6x2cm). Make a ring out of it. Stick this ring on the back of the cutout.
Step 4: Put the ring on your finger and see how the puppet moves.
131 words | 1 minutes
Readability:
Based on Flesch–Kincaid readability scores
Filed under: craft activities
Tags: #fingers, #puppets
You may also be interested in these:
Make your own Cards
Puppets on a String