Things you need:
Vegetables like potatoes and lady's finger.
A few bottles of bright poster colours.
Painting brushes, one for each colour you
want to use.
Some drawing sheets, or ivory or poster paper.
A knife.
A water container.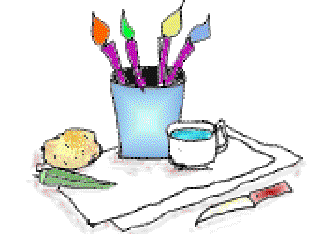 What to do:
Step 1
Take a potato and slice it into two. Then draw any design on it with the pencil. Take the knife and run its tip over the motif, making a shallow cut. Carve out the rest of the potato flesh so that your design stands out.
Step2
Now colour the motif with a brush.
Step 3
Stamp the coloured motif on the paper you have chosen for the greeting cards. You can keep repeating this process till you have a bunch of flowers.
Similarly, you could carve out leaf motifs on another potato and make leaves.
If you are using a lady's finger to make the designs, you don't have to carve anything. Just cut it and dip it in the paint. Then use it as a stamp to get a different design. Remember to take out the seeds before you start off. Or, your patterns may not form well.
And, send us some of your cards. We'll put it up on our site.
212 words | 2 minutes
Readability:
Based on Flesch–Kincaid readability scores
Filed under: craft activities
Tags: #fingers, #stamps
You may also be interested in these:
Romance of Postage Stamps
We cannot put the face of a person on a stamp unless said person is deceased. My...