The tortoises are simple to make and you can have great fun playing with them.
The things you need: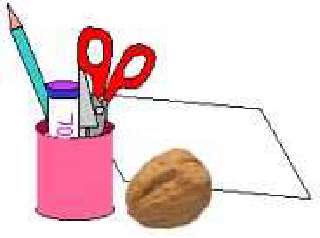 Walnut, card sheet, pencil, eraser, scissors, glue and colours.
Step 1. Break a walnut into two. Atleast one shell should be perfect.
Step 2. Put the shell, dome side up on the card sheet. Draw out the legs, mouth and tail of the tortoise.
Step 3. Cut the card sheet in that shape and colour it.
Step 4. Apply some glue on the flat rim of the shell and stick it to the card sheet.
Step 5. Bend the legs downward and tilt the head upward.
Your tortoise is ready. You can also tie a string to the neck to make the it move. If there are two three of you then you can even have a race!
144 words | 1 minutes
Readability:
Based on Flesch–Kincaid readability scores
Filed under: craft activities
Tags: #shells, #tortoises
You may also be interested in these:
Why Do Turtles and Tortoises Live So Long?
Why are Eggs Oval?
Joy of Making Indian Toys
Peanut Puppets
She sells sea-shells on the sea-shore. The shells she sells are sea-shells...