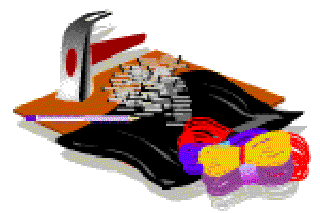 This beautiful design board is perfect for your drawing room wall and extremely simple to make.
The things you need:
Pin board

Small size nails

Hammer

Different coloured threads

Black cloth

pencil
Step 1: Take a soft board and cover it with a black cloth. You can take any size you want.
Step 2: With the help of a light coloured pencil draw out the pattern. Try to keep it simple if you are doing it for the first time.
Step 3: Now hammer small sized nails on the pattern you have created. The nails should be placed at a distance of an inch from each other.
Step 4: Start from one end of the pattern. Tie a knot in one of the nails and start weaving the thread randomly around the other nails.
The point is that you have to fill the pattern with the help of threads.
So aren't you eager to try it out? Though it looks complicated and difficult, once you get down to making the pattern, it's fun all the way. This attractive design board makes an excellent gift for birthdays and anniversaries.
195 words | 1 minutes
Readability:
Based on Flesch–Kincaid readability scores
Filed under: craft activities
Tags: #patterns, #pencil
You may also be interested in these:
Tree Rings tell many Tales
Can Two People have Identical Fingerprints?
Pencil stand of Bangles
Tin Can Lantern
Alpana