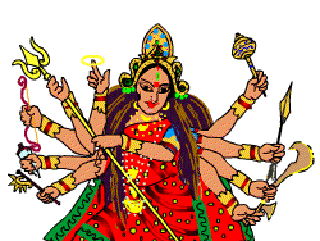 Durga Puja is the biggest festival in Bengal. We celebrate this puja very nicely in our city. We look forward to Durga Puja every year It is a joyous occasion for all of us. In Calcutta, Durga Puja is a wonderful celebration. Being vacation time, we enjoy ourselves very much.
Durga Puja usually lasts for five days. It begins with 'Shashti' and ends with "Dashami". In our locality, we decorate the 'pandal' (tent) very nicely . The Honourable Minister of Transport comes for the inauguration of the Puja to our locality . Every year I go with my parents and my sister to visit the pandal and worship the image of the Goddess Durga.
We see the crowds thronging around the 'pandal' throughout the night. The police control the traffic in the area around the 'pandals. The roads and buildings are wonderfully illuminated. The police check and control the level of noise to prevent sound pollution. We enjoy the sound of drum beats in every pandal.
On the 'Ashtami' we pray to Goddess Durga. On the last day of the Puja (Dashami), we see the immersion of the Durga idol to the beating of drums, bursting of crackers, and dancing on the road.
Every year the puja pandals show excellent craftsmanship and prizes are given to the best idols by various organisations. We wait for Durga Puja every year.
Poulami Das, who is a third standard student, in Calcutta, writes about Bengal's biggest festival – Durga Puja.
255 words | 2 minutes
Readability: Grade 7 (12-13 year old children)
Based on Flesch–Kincaid readability scores
Filed under: your pages
Tags: #bengal, #durga, #festivals, #calcutta, #goddess, #durga puja