_Shatrunjay Hegde is eight years old. He is studying in the 4th standard in Valley School at Bangalore. _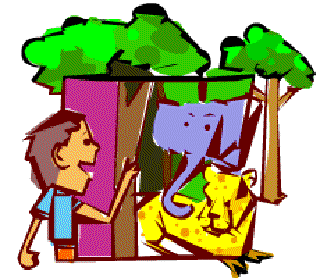 We went to Bandipur National Park near Mysore for a three day jungle camp and safari. During this trip we went for many safaris. We went trekking in the jungle. We talked about elephants, tigers, leopards and many other animals. We went to the museum at Bandipur where we saw tiger jaws and elephant jaws and we also saw pictures of all the animals which are in the Bandipur National Park.
When we went for the trek and the safari, we saw elephants. There are many tigers in the Bandipur National Park but we did not get to see any. We also saw bisons, spotted deer, antelopes, barking deer and sambhars. Then we saw the common langurs and the red faced monkeys. We saw monitor lizards, leopards, panthers, wild dogs, wild boars as well as sloth bears. We saw many birds like peacocks, golden backed woodpeckers, storks, egrets and brown eagles. 
Where we were sleeping in the nights, nearby there was a garden. There was a pit of a cobra. The snakes in Bandipur National Park make their houses in old anthills. In the morning we talked about everything we saw the previous day. We also saw slide shows about the park.
We also visited the elephant camp at Mudumalai. At the camp we saw many elephants. There were three baby elephants in the whole group. There was a small temple in the Mudumalai elephant camp where every evening the three baby elephants would come and pray.
In this trip, we also went to a bird sanctuary in Mysore. There was a river there which had some islands in it and the birds were seen on the islands. It was raining very heavily there so we could not row till the islands, but then also from where we stood we could see quite a few birds.
When we were returning from the last safari, we saw an elephant which we saw everyday in the lake. But it was dead. Somebody had shot it. We were very sad about this. In the camp a few rogue elephants ran behind our bus.  It was very scary.
But then also we had lots and lots of fun.
390 words | 3 minutes
Readability: Grade 6 (11-12 year old children)
Based on Flesch–Kincaid readability scores
Filed under: your pages
Tags: #birds, #tigers, #leopards, #national park, #mysore, #jungle
You may also be interested in these:
Something Special
Polluted India
The Tale of a Circus Bear
Killing them Surely
The Nest