Satyanshu Mohan is student St. Joseph's Intermediate College at Allahabad and is studying in class four. Here he recounts his trip to Nainital with his family.
Nainital is a beautiful hill station in Himalayas. My father is very fond of Nainital. This year we went just after Deepawali to Nainital on a short trip. There is no direct suitable connection by train to Nainital from Allahabad so we first went to Rampur and then from there we took a train to Kathgodam.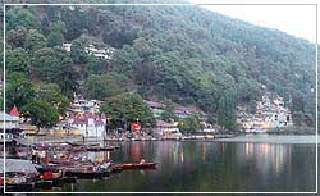 From Kathgodam we took a taxi and by road went to Nainital. It was a call for BANDH (a strike) in Uttarakhand, the new state people wanted to be carved out of Uttar Pradesh, so there were very few people on the roads and shops were closed.
We were stopped a kilometre short of Nainital by roadblocks and we had to cover this last kilometre of our journey on foot. When we reached our rest house, we saw monkeys were playing opposite our suite. There is a lake named Naini here. There were pedal boats and rowboats in it. Pedal boats were in three shapes – Duck-shaped, Fish-shaped and standard ones.
There are temples also at Nainital. Naina Devi temple is near the 'Flats' the large flat ground which is carved out of the lake itself due to landslides in olden times. It is near the Mallital area. Pashan Devi temple is on the 'Thandi Sadak' on the other bank of the lake. On this side of the lake lies the Mall road.
Hanumangarhi Temple by Nim-karori Baba is some three kilometres away from Nainital. We enjoyed the walk alongside the lake periphery covering four kilometres in one day. It was very interesting. We visited Hanumangarhi also and walked on return trip from temple. My papa and mom walked both ways while my sister, my grandmother and I took a taxi ride while going.
We had lunch at Shiva restaurant in Mallital. Our trip was a very short one – four days only, since my mom had to attend the marriage of my mama (uncle) at Kanpur.
There were two trollies. I purchased so many beautiful candles from Nainital. My sister and my grandma took Golu Dev and Lord Ganesha's statue moulded wax. We came down on the fourth day to Kathgodam. The train was ready to go. We boarded the train immediately and next morning we came back to our residence at Allahabad.
414 words | 4 minutes
Readability: Grade 7 (12-13 year old children)
Based on Flesch–Kincaid readability scores
Filed under: your pages
Tags: #trains, #nainital, #temple
You may also be interested in these:
The Wise Doves
Monkey Business
Excerpts From 'The world of trees'