Mister Jeejeebhoy and the Birds
Author: Anitha Balachandran
Illustrator: Anitha Balachandran
Publisher: Young Zubaan Books
Author and illustrator Anitha Balachandran's Mister Jeejeebhoy and the Birds, just published by Young Zubaan is a delight to the ears! Hey! But it's a book! Exactly. A book that, as soon as I opened it's luscious orange cover, immediately let loose a cacaphony of "bustling, hustling, crinkling, crackling, creaking" sounds, and much more.
This delightful book follows two young girls, Diya and Tara, who come to live in their aunt Ninamasi's house, and discover a world that is obviously on it's own trip. For this reason perhaps, the neighbourhood kids don't play with them. Outside, there's the scrumptious world of Mister Jeejeebhoy's sweet shop, where catastrophe is waiting round the corner. Can Diya and Tara save Mister JeeJeebhoy's sweet shop? Do they finally make friends? Jump into this auditory delight, perfect for a bedtime read full of exaggerated sounds, and find out for yourself.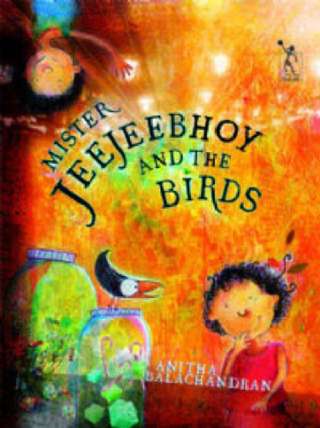 Mister Jeejeebhoy and the Birds. Author: Anitha Balachandran; Illustrator: Anitha Balachandran;
Publisher: Young Zubaan Books
180 words | 1 minutes
Readability: Grade 9 (14-15 year old children)
Based on Flesch–Kincaid readability scores
Filed under: book reviews
Tags: #birds
You may also be interested in these:
Lion On The Loose!...!...
Pelican Trouble
Birds Sing in their Sleep
When a Cat Preys for Lunch
The Gardener Bird