Festival of Eid
English translation of 'Eidgah' (Hindi)
Written by Munshi Premchand
Translated by Khushwant Singh
Published by National Book Trust, New Delhi
Translated by the veteran columnist and writer, Khushwant Singh, Festival of Eid retains the compelling essence of the original work.
This well illustrated book tells the story of Eid, as it is celebrated in a small village, and stresses that festivals are actually about showing the love and concern that we feel for our near and dear ones.
The festival is brought alive through the eyes of four-year-old Hamid, a small orphan boy who lives with his old grandmother.
The book starts with the day of Eid-ul-Fitr dawning after a whole month of fasting. The excitement of small children and the harried anticipation with which the adults go about their special chores, brings the village scene to life.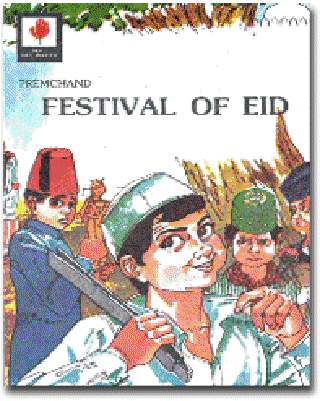 Everyone gets up early and dresses in their Eid best. The adults go about ordering supplies like milk and sugar for Eid specialities like 'seviyan' (vermicelli pudding), while the children wait impatiently to make their way to the mosque for prayers.
Their anticipation is palpable. The children have received their eidee (pocket money) and they are looking forward to visiting the fair on their way back from the mosque. At the fair they will buy new toys, take rides on the merry go round, gobble loads of sweetmeats and gulp down glassfuls of sherbet (sweet drink).
But, for poor Hamid, who has only three pice in his pocket, none of these things is good enough to spend his money on.
An excerpt from the book:
What use are toys? They are a waste of money. You can have some fun with them but only for a very short time. Then you forget all about them.

Hamid's friends have gone ahead. They are at a stall drinking sherbet. How selfish they are! They bought so many sweets but did not give him one. And then they want him to play with them; they want him to do odd jobs for them.

If they ask him to do something, he has an answer ready for them:

Go suck your lollipop, it will burn your mouth; it will give you a rash of pimples and boils; your tongue will always crave for sweets; you will have to steal money to buy them and get a thrashing in the bargain. It's all written in books."

Hamid then catches sight of a pair of tongs. Why is Hamid eying a pair of tongs? Can he convince his friends that his toy is the best? How does his grandmother react when she sees what he has bought?
Find the answers to these questions in this touching story of Eid – the festival that symbolises love, caring and sharing.
468 words | 4 minutes
Readability: Grade 6 (11-12 year old children)
Based on Flesch–Kincaid readability scores
Filed under: book reviews
Tags: #money, #festivals, #grandmother, #mosque
You may also be interested in these:
The Family Album
The Three Ms for Freedom
Festive Layers
Street Cricket in Calcutta: Out, Caught!
The Best Christmas Gift of All