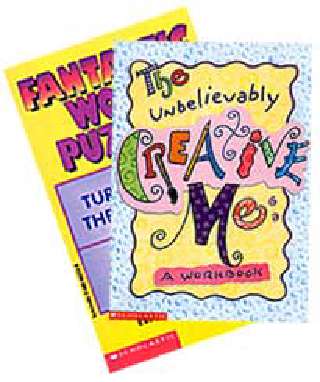 |
Done with the exams and looking for a break? How about trying a few mental calisthenics (gym exercises to tone up the body) that will keep your grey cells active during the summer vacations? The books reviewed below help you do just that. At the same time, they don't tire you out.
The Unbelievably Creative Me A Workbook
Written by Karle Dickerson and Connie Berg
Published by Scholastic India Pvt. Ltd.
It's a great workbook with ideas on drawing, doodling, dramatising and dreaming…everything that will keep you asking for more. There are many cool activities to let your inner artist run free – whether it's writing, drawing, dancing, acting, singing or making crafts.
This book will teach you to make cards that pop, draw and paint, try your hand at cartooning and splash some colour. There's even a party-planning sheet telling you how to throw a party. Right from the theme to the location, the time, invitations and party favours. It even has pointers telling you how to dance right!
So, go right ahead and use this workbook to satisfy your creative instincts.
Fantastic Word Puzzles
Written by Michael B Mager
Published by Scholastic India Pvt. Ltd.
This amazing puzzle book is packed with hundreds of funny tricks with words.
An excerpt from the book:
These puzzles contain a familiar word or phrase in a sort of code. Your assignment, Puzzle Solver, is to crack the code in each puzzle. To do that, you'll have to look carefully at the arrangement, size and position of each group of mixed-up letters, words and symbols.
Get going, puzzle-cracker.
271 words | 2 minutes
Readability: Grade 6 (11-12 year old children)
Based on Flesch–Kincaid readability scores
Filed under: book reviews
Tags: #india
You may also be interested in these:
Viswanathan Anand – The Lightning Kid
Street Cricket in Calcutta: Out, Caught!
The Lake and the Birds
Polluted India
The Green Magician