Kali and the Rat Snake
Written by Zai Whitaker
Illustrations by Srividya Natarajan
Published by Tulika, Chennai
An excerpt from the book:
Kali's father was one of the most famous snake-catchers among the Irula tribe. He had caught over a hundred cobras just this monsoon and bought many good things for the family. The snake cooperative paid Rs 150 for each poisonous snake. They took out the poison from snakes to make anti-venom serum. When Kali went snake-catching with his father, his legs worked like machines. But now he slowed down…
Why did Kali slow down 'now'? He was going to school, that's why. Oh that, you think. The commonest reason why kids everywhere drag their feet. Yet another story about how hateful school is.
Well, not quite. While Zai Whitaker's Kali and the Rat Snake might seem to be about little Kali's school adventures, at a deeper level it makes us ask questions such as, "Why do we think that people different from us are to be looked down upon?"
The story in brief: Kali, belonging to the Irula tribe of Tamil Nadu, is an unhappy boy. It's been over two months since he joined school, and he hasn't made a single friend. The reason is, he's different.
Instead of being a bus conductor or someone equally ordinary and thus "normal", his father is a snake-catcher. Instead of biscuits and idlis (a south Indian snack made of fermented rice), Kali likes to chew fried termites. That makes his father and by relation, Kali himself, somewhat abnormal in the eyes of his classmates.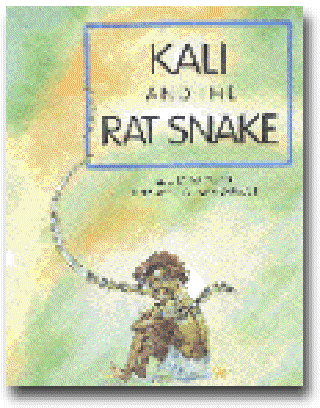 Till now a happy child, Kali is thrown off-balance by the realisation that his classmates actually look down upon his father's profession. And they don't like the fact that he belongs to a tribe, either.
His classmates are too young to know that being different is not the same as being inferior. Their parents have not explained to them that the world is made of different kinds of people, all of whom do not live life the same way or have the same customs. What fun would there be if everyone in the world were alike? The world would become very dull indeed. But it's something Kali's classmates don't understand yet.
It doesn't help that Kali is easily the brightest boy in class. Naturally, he is the teacher's pet. And who likes teachers' pets anyway?
So Kali's classmates go out of their way to ignore him and treat him as if he is not there. Eventually, they learn their lesson. I won't give out the details but will just mention that the story ends on a happy note with Kali having become a hero in his classmates' eyes.
Zai Whitaker grew up in a house with a big garden that had bullfrogs and other wild creatures roaming about in it. Perhaps that's why she writes so warmly and familiarly of the rat snakes in the story. She lives in south India and teaches there.
The author's language is simple and effective. She tells her story directly and without any preachy tone. The story is accompanied by delightful and vivid watercolours by Srividya Natarajan, that depict Kali's world wonderfully.
Kali and the Rat Snake is part of the Wordbird series of books from the Chennai-based publishers of children's books, Tulika. Besides English, the books are also brought out in Kannada, Hindi, Malayalam and Tamil. The stories are drawn from oral traditions, that is, they have been passed down from generation to generation by word of mouth. Or else, they are drawn from present-day life.
604 words | 6 minutes
Readability: Grade 6 (11-12 year old children)
Based on Flesch–Kincaid readability scores
Filed under: book reviews
Tags: #snakes, #tamil
You may also be interested in these:
Snake People