History, Mystery, Dal and Biryani
Written by Subhadra Sen Gupta
Illustrations by Tapas Guha
Published by Scholastic India Pvt. Ltd.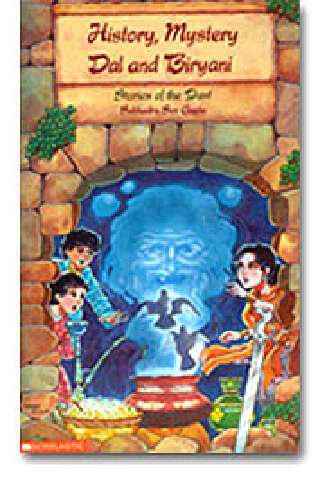 Don't you sometimes wish you were on a time machine, able to go back and forth in time at will? Recently, while reading this book of 10 short stories by Subhadra Sen Gupta, curiously but appropriately named History, Mystery, Dal and Biryani, I felt like I was on one.
A time machine that took me back by a few hundred years, to an India teeming with life and colourful characters; to a past of princely states, imperious noblemen, adventure and history.
Intrigued? There's the charming Dal Delight that describes the efforts of young Sadiq to ensure that Nawab Hasan Ali, (ruler of a princely state), arrives at his father Mohammad Qadir's roadside eatery on time. The purpose of this esteemed gentleman's visit is to taste the heavenly dal shahi urad (a preparation of lentil), that is his father's speciality.
But why is Sadiq so keen that the nawab reach the shop on time? His father's temper, that's why. Once it flares out of control, Sadiq knows his father can do anything – even throw away the dal he has so painstakingly prepared. So what can he possibly do to make the nawab, busy flying kites at the appointed lunch hour, come with him?
Sumptuous food features prominently in stories like No Pulao for Nawabsaab and Salim Husain Quwwal, too. These stories are set in the 19th century, and they shed light on how Mughlai cuisine has become an integral part of Indian food. After all, the kulfi or the Indian ice cream was the Mughals gift to us.
Humour features prominently in the stories, too. Take Who's Afraid of Ghosts, for instance. Ghosts are supposed to be scary, right? But, look at the siblings who discover Nawab Salim-ud-din in a forgotten haveli or old mansion. Instead of trembling in their shoes, they feel protective towards the elderly ghost!
An excerpt from the story:
Three mutinous faces looked at him in disbelief. Then the children told him exactly what they thought of Nawab Salim-ud-din Masood. They said he couldn't possibly be a ghost because his feet pointed in the right direction, his head stayed in place, he didn't smell of smoke and what was worse, they were not scared of him at all, the TV Horror Show ghosts looked scarier than him…
Shah Jahan, Tenali Rama, Krishna Deva Raya…while the stories may be fictional, the author very deftly uses real historical figures to bring those times alive to the reader.
Tapas Guha's pencil and charcoal drawings add to the charm by evoking that 'olden-day' feel. All in all, a book that you feel like keeping for a long time.
460 words | 4 minutes
Readability: Grade 8 (13-14 year old children)
Based on Flesch–Kincaid readability scores
Filed under: book reviews
Tags: #indians, #history, #mystery, #ghosts, #nawab
You may also be interested in these:
The Mystery of the Old Cemetery
Dress Relief
R.K. Narayan
Footprints on Earth
The End of Living – The Beginning of Survival