The Gift of the Magi
From 100 Selected Stories: written by O. Henry
This tender tale has all the elements of a classic: it seems new every time you read it.
The Gift of Magi is a tender love story that highlights love as the true spirit of Christmas. It is Christmas eve and Della, the wife of James Dillingham Young, has only one pound 87 cents to buy her husband a present.
After crying over the lack of money, she suddenly remembers one of their greatest treasures – her long lustrous hair. She sells her hair for a price.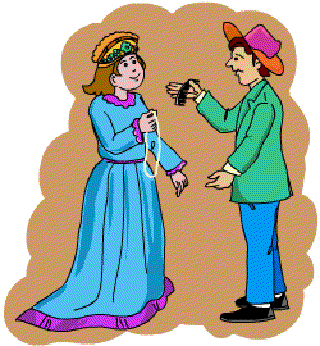 When Jimmy returns home, he is speechless with surprise. Giving her a long hug he tells her he loves her even with her haircut, and then gives her a Christmas present – a set of tortoiseshell combs that she had been admiring!
To buy her the present, he had sold off their other great treasure, his grandfather's gold watch. And Della had sold her hair to buy an expensive chain for his watch!!
An excerpt from the book:
"Dell," said he, "lets put our Christmas presents away and keep 'em awhile. They're too nice to use just at present. I sold the watch to get the money to buy your combs. And now suppose you put the chops on."
The Magi were the wise men who gave infant Jesus presents that were symbolic of his greatness. But no presents could be as precious as those given by Della to Jimmy and by Jimmy to Della, concludes O Henry. And that is the present of love, which is priceless.
About the Author
O. Henry's real name was William Sydney Porter. He only had a rudimentary schooling but went on to become a journalist with the Houston Daily Post where he had a regular humourous column. Later, he was indicted for having stolen money from a bank where he worked earlier, and he fled to Honduras.
Three years later, when he returned to be with his dying wife, he was arrested and spent three years in jail. Jail is where he started writing under the pseudonym O. Henry.
366 words | 3 minutes
Readability: Grade 5 (10-11 year old children)
Based on Flesch–Kincaid readability scores
Filed under: book reviews
Tags: #money, #christmas
You may also be interested in these:
The Gracious Gift
The lazy monk — a tale from the Panchatantra
The Fairy Doll
Christmas Favourites
Best Day of the Term