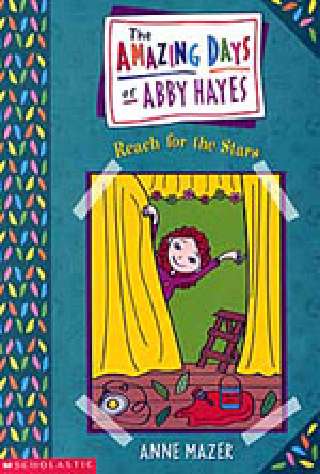 The Amazing Days of Abby Hayes
Written by Anne Mazer
Published by Scholastic Inc.
The class is preparing to enact Peter Pan for the school, and Abby Hayes has one big ambition – she wants the best part. And she is willing to work hard to be the leading star. Singing lessons, dancing lessons, diction, just name it!
Abby's mother has told her that she "is tall enough to touch the stars" if she wants to, and that's what Abby is aiming for. With two weeks to go before the auditions, when the teachers will choose the players, Abby strives very hard. She goes to the extent of learning up each character's lines and practising them, with expressions, in front of the mirror. She knows that there is lots of competition…
What makes the story interesting are the the first person diary accounts, of Abby's thoughts and impressions, at the beginning of each chapter.
An excerpt from the book:
Friday: My performance in Peter Pan will be a "thing of beauty". It will be a "joy forever," because my family will never stop talking about it. Neither will Ms. Bunder. The tryouts are in only two weeks. I must prepare myself in every way. Once I get my part, I will rehearse without cease! But first I must decide which part I want. Captain Hook? Peter Pan? Wendy? Or any of the other roles?
Is Abby's father willing to give her lessons, will all her hard work be of any help. And the biggest question of all – does she get the part she decides on? A story that is bound to thrill anyone with dreams in her or his heart.
284 words | 2 minutes
Readability: Grade 5 (10-11 year old children)
Based on Flesch–Kincaid readability scores
Filed under: book reviews
Tags: