Clown, jester, poet…Tenali Rama, minister in the court of the ruler of Vijaynagar, Krishnadeva Rai (reign: 1509-30), was a lot of things. Stories, about Tenali Rama and his practical jokes on everyone around him including distinguished fellow poets and the emperor himself, abound in south India.
His fame spread beyond Vijaynagar (present-day Andhra Pradesh), to areas that come in Tamil Nadu and Karnataka today. Tenali Rama was also a great scholar of several languages that included Marathi, Tamil and Kannada.
King Krishnadeva Rai had some superior quality brinjal or aubergine plants growing in his private garden. No one was allowed to view the garden without the king's permission, let alone taste the brinjal.
Once the king invited his courtiers to a feast in which the brinjal was served. Tenali Rama enjoyed the vegetable so much that he talked to his wife about it on returning home – so much so that she insisted on tasting it.
"How can I get them for you?" Tenali Rama asked. "The king is so possessive about the vegetable that he can detect the theft of even one brinjal from his garden. And, I'm sure that he would want the thief's head chopped off right then, if he caught him red-handed.
But Tenali's wife begged him to allow her to taste the brinjal.
Tenali Rama was helpless. After much deliberation, he agreed to his wife's demand. One night he quietly jumped into the king's garden and plucked a few brinjals from the garden. His wife cooked them with zeal and was all praise for the taste. She wanted to let their six-year-old son also taste the vegetable, but Tenali Rama asked her not to.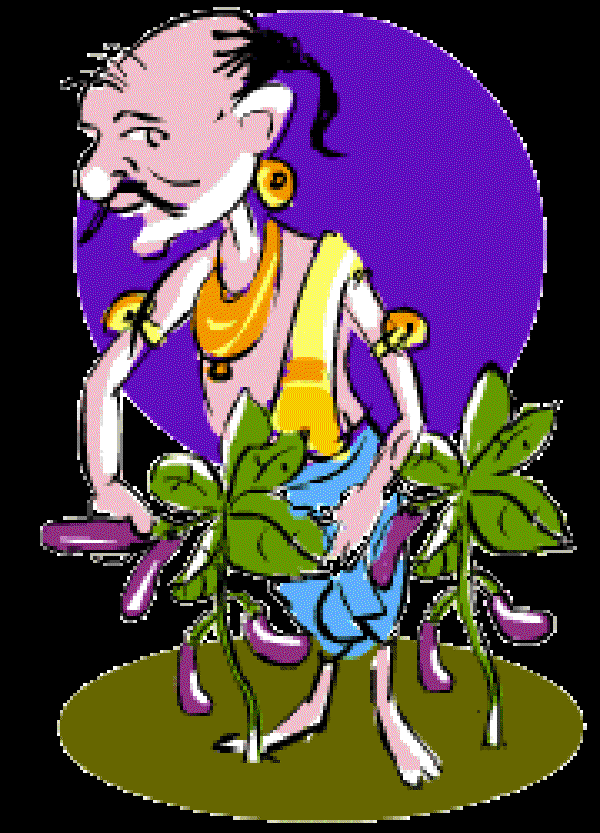 "Don't make such a mistake", he warned her. "If he happens to tell somebody, we will be in deep trouble."
But his wife did not agree. "How is that possible? How can we eat something whose taste we shall remember forever and not share it with our son! Find a way out so that he gets to taste the vegetable and nobody is able to prove that we stole it from the king's garden."
Tenali Rama had no option but to nod his head in agreement.
He filled a bucket with water and went upstairs to the roof where his son was sleeping. He poured the water on the child. Then he picked up the child and said: "It is raining. Let us go inside the house."
Once in, he got the child's clothes changed and gave him the vegetable to eat. He again remarked that it was raining outside, and let the boy sleep in the room.
The next day the king came to know of the theft in his garden. The royal gardener who kept a head count of each vegetable and flower, found one brinjal missing. It became the talk of the town. The king declared a huge prize on the thief's head.
Chief Minister Appaji suspected that only Tenali Rama was capable of such an audacious act. He let the king know about his suspicion.
The king said: "I know he is very clever and always gets out of charges on one pretext or the other. It is better that we call his son. We will find the truth through him. Tenali will lie to get out of any situation, but he would never ask the child to do so."
Tenali Rama's son was called. He was asked what vegetable he ate the night before. The child replied: "The brinjal and it was the tastiest vegetable I've ever eaten."
Chief Minister Appaji told Tenali Rama: "Now you will have to accept your guilt."
"Why should I when I'm not guilty?" replied Tenali Rama. "The boy went to sleep very early last night and seems to have had many dreams. That is why he is talking nonsense about brinjals and rain and what not. Ask him if it rained last night or not."
Appaji asked the child: "How was the weather last night? Was the sky clear or did it rain?"
The child replied: "It rained heavily last night. All my clothes got wet when I slept on the roof." The fact was, not a single drop of rain had fallen on Vijaynagar that day.
Appaji had no option but to get rid of his suspicions in the face of such apparent madness.
He apologised to Tenali Rama for having suspected him.
743 words | 7 minutes
Readability: Grade 6 (11-12 year old children)
Based on Flesch–Kincaid readability scores
Filed under: folktales
Tags: #brinjal, #tamil, #garden, #tenali rama, #vijaynagar
You may also be interested in these:
My Garden
Passing by My School Garden
Of Rat Snakes and Boys who are Different
The King and the Squirrel
Birju and the Flying Horse