October 14: First chocolates and now mobile playgrounds! Children have two reasons to thank the Swiss. The latest bit of good news is that the Swiss railways have started trains which have a special children's corner. And no prizes for guessing that the theme of this playground is dinosaurs. The Indian Express.
Children boarding trains on the Basel-Zurich-Chur route and the St. Galen-Zurich-Berne-Interlaken line have found that riding the train can be a most enjoyable experience, reports 'The Indian Express'. No more pestering mothers to take a round on the train that would send them flying into someone's lap, or buying unending supplies of candy, or reading a much thumbed comic for the fiftieth time to avoid looking out at a boring scenery.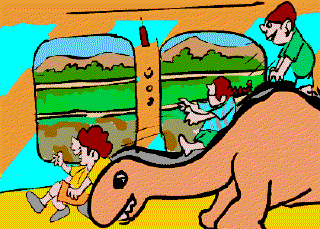 All they have to do now is to dash off to the double-decker carriages to try out the slides and check out their dinosaur frames. When bored with these games, they can turn their attention to creative pursuits like painting or assembling blocks. And after tiring themselves out, they can finally sink back into the seats with some books or tapes.
Mindful of the parents, the railway officials have also created reserved seating for them to be able to watch over the activities of the children under their charge.
Switzerland's National Rail Network plans to introduce 15 such carriages within a year. For the children, riding a train will be so much more fun. The adults might feel left out, though.
In India, the toy-trains of Darjeeling and other hill-stations, which wind their way leisurely through the green mountains, are a great favourite of children. These trains are slow enough for people to run after them and board them. And a ride in them is memorable enough to linger in the mind for a long time.
Will a ride in a racing dinosaur-themed carriage be as memorable? Maybe.
321 words | 3 minutes
Readability: Grade 6 (11-12 year old children)
Based on Flesch–Kincaid readability scores
Filed under: world news
Tags: #indians, #trains, #dinosaurs, #zurich
You may also be interested in these:
The Brightest of Them All
UFO Landing
The two-twenty-two train tore through the tunnel.
Rhinoceros: On the Comeback Trail
The Magic Carpet