September 8: At seven Arumuyam Malar could handle a gun better than a pencil. At eight she could handle the wireless radio and knew how to use hand grenades and semi-automatic rifles.
As an 'Eelam tigress', or a child guerrilla of the Liberation Tigers of Tamil Eelam (LTTE) in Sri Lanka, she was told that she had to fight till the end for her Tamil homeland or Eelam — and commit suicide by taking a cyanide pill upon capture. Malar had been tricked and abducted by the LTTE.
Last month 14-year-old Malar was captured by the Sri Lankan army from a location that she and other members of the women's unit were defending in Jaffna, in northern Sri Lanka, controlled by LTTE. But she did not commit suicide.
She did not have the cyanide pill that most LTTE guerrillas keep with them, to escape arrest by dying.
And so she lives to tell her tale and to feel totally alone in a hostile surrounding. She is being held by the Sri Lankan army in a high security military compound in Jaffna. She will have to face a military trial.
Malar lost her father when she was seven-years-old. Her uncle took Malar to his home. One day a woman called Sylvie came to the house. She promised to take Malar shopping.
Instead, from her village she was taken many miles away to the Jaffna peninsula. She was then given rigorous training with others in the group. Her group consisted of 48 women fighters of which five were children of Malar's age.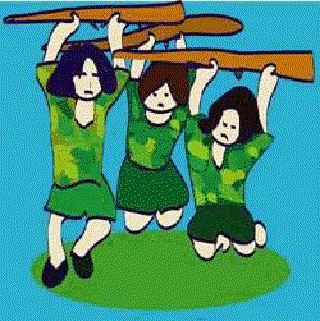 Training consisted of drilling, marching, handling weapons, attacks and defence. "Punishment is also swift," said Malar in an interview to the 'International Herald Tribune', which was carried in 'The Asian Age'.
"I really was not very good at marching drills in the hot sun. . . I was frequently punished," said Malar in the interview. This was in the form of holding a four kg rifle above the head and doing 'thousands' of knee-bends. Being the youngest in the unit, she found it difficult to match her steps with the others.
Maybe the only relaxing moment in her life was in the afternoon when all those who did not have guard duty, played volleyball or kabaddi. Malar preferred the latter. She has never owned a toy or played with a doll.
Her strongest memories are of people dying around her in battle, especially Sylvie, who recruited her – or of another soldier woman being given a cyanide pill after she suffered a terrible head injury.
Though a letter was sent to Malar's mother some time ago, there has been no reply so far. And the only answer she has is that she is lonely.
The LTTE has been fighting the Sri Lankan government with arms for the last 17 years for a separate homeland or Eelam for the Tamils living in the northern part of Sri Lanka. To fight for such a long time period you need people who can pick up guns and carry on the battle.
Children like Malar are the easiest of targets. They can be forced, beaten and bullied by adults into doing anything. And so, for many years now the LTTE, like many other guerrilla organisations in the world, has been forcibly recruiting children under 18 and as young as seven or eight to fight their military battles.
According to the Sri Lankan government, child soldiers form almost one-third of the 5000 strong LTTE guerrilla force.
Malar is no isolated case. Children and child labour has been part of wars and battles. In the 12-13th century, children were forced to join the Crusade, the Holy War fought by the Christians and the Muslims.
Down the ages, child armies were created in Germany with Adolf Hitler's Brown Shirts, children have been used as frontline defence shields in Sierra Leone and also in Burma (now Myanmar). Most children die, either due to the harsh conditions which young hands and bodies are not used to or killed by bullets and mines.
Arumuyam Malar survived, though most of her group got killed. And she bears marks of bullet scars too. So is there anything to look forward to for Malar and others like Malar? With their childhood robbed of innocence? With memories of bullets, violence and death?
NO. Not unless people decide that children have a right to live. A right to enjoy school, friends, toys, games and fun and live a full life. The world must condemn such atrocities committed on children.
763 words | 7 minutes
Readability: Grade 6 (11-12 year old children)
Based on Flesch–Kincaid readability scores
Filed under: world news
Tags: #tamil, #sri lanka
You may also be interested in these:
Tenali Rama and the Brinjal
Orphanage for Elephants
Of Rat Snakes and Boys who are Different