August 1: The 'Netagiri Vidyalaya' (Leadership School) in Ranchi gives the impression of being one of those 'dingy-lane' institutes that spring up like mushrooms during rains. What could a school situated in such premises possibly teach its students, you wonder. Apparently a lot, says a report in the India Today magazine. As the name suggests, the recently opened school, the first of its kind in the country, aims to educate aspiring politicians.
And the institute is sure to get a lot of 'students' for Ranchi is now the capital of the new state of Jharkhand, formerly a part of Bihar.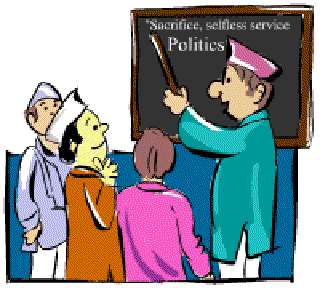 In one clasroom, a tall, lean man is busy telling a group of students that "Sacrifice, selfless service to the people, society and the nation, that's what politics is all about." Meet Raj Ranjan, the founder of the institute, who has dabbled in small-time politics, and also happens to be the brother of a former Congress politician from Jharkhand. The institute was started in April 2001.
The report quotes Ranjan as saying that for years he had wondered about how poorly qualified Indian politicians were to do their job properly, that is, govern the country effectively. So Ranjan decided to do train aspiring politicians.
The institute runs a three-month course, covering subjects like political science, sociology, social psychology and economics. And students don't have to pay any fee. "We don't want to do any business. What we take from the students is a meagre Rs 50 as a one-time enrolment fee. Plus we want their commitment to learn and practise what is taught," says Ranjan, in the report.
He is supported by a "teaching staff" coming from diverse fields, such as academics, law, journalism and municipal administration.
What are the classroom lectures like? The main emphasis is on leadership, and on understanding people's right and duties, says Tapan Kumar Tulal, an associate of Ranjan and politician himself. Students are asked to compare chief ministers like N. Chandrababu Naidu of Andhra Pradesh and Laloo Prasad Yadav of Bihar. The 'students' are constantly reminded about how they, as the "centre points of the people's beliefs", can make their country a better place to be in.
Among the 26 students who have enrolled for the course so far, is Ajai Rai, member of the Jharkhand Joint Students' Action Committee. He frankly admits how most young people like him saw politics as a means to start or expand a business. "Now we are learning the true form and concept of politics in the era of globalisation," he says. Another student, Prabhakar, a mining engineer, says, "Politics was a dirty word earlier. A few classes at the Netagiri changed that perception."
Only time will tell whether these "Netas" would make a worthwhile difference.
467 words | 4 minutes
Readability: Grade 8 (13-14 year old children)
Based on Flesch–Kincaid readability scores
Filed under: world news
Tags: #india, #bihar, #politicians, #institute, #politics
You may also be interested in these:
Indian Children on US Mars Project
Aung San Suu Kyi
Mormu: Daughter of the Forest
Basket-making in India
Humble Rickshaw Gets a Face-lift