November 24: A syllabus where a chapter on Habba Khatoon, a famous Kashmiri poet, jostles for space along with chapters on papier-mâché, hanguls (deer), apples and Kashmiri rugs?
Well, these subjects are what primary school students in Kashmir, are going to be reading in their textbooks – and it is not without reason. The violence in Kashmir seems to be never-ending. Alarmed at the violence and bloodshed that children in the state are exposed to, the Jammu and Kashmir Government now wants them to absorb themes of love, harmony and ecology, says a report in the 'Indian Express'.
So it instructed the Jammu and Kashmir State Board of School Education (J&KSBSE), to introduce a very innovative syllabus that lays greater stress on the integration of Kashmiris.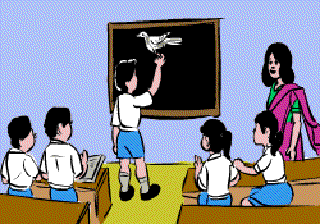 That was a few years ago. The government's instruction put the J&KSBSE in a dilemma of sorts: How to spread the message of love without appearing preachy and thus alienating children from the text books. Moreover the quality of English in the State, which was selected as the language of instruction, was poor. But it was equally important for Kashmiri children to familiarise themselves with English, the language increasingly seen as a global language.
What was it to do? So the J&KSBSE approached the British Council, Britain's premier body promoting cultural activities in other countries, for help in rewriting the school curriculum.
The British Council conducted several workshops across the State in Jammu, Srinagar and Leh. To prepare the syllabus, consultants worked with 150 master trainers for the middle level and 250 for the primary level. And they didn't just sit and consult each other while preparing the syllabus, either.
The authors were taken around the State so they could closely observe the cultural identity of each region, and keep that in mind while writing the syllabus. After all, the best way to instil a sense of pride in one's culture and people is by highlighting the immediate issues that matter.
"If we openly spoke of issues like insurgency (revolt against the established government) and said this is bad or that is good, these books would not reach the market," said Bashir Ahmad Dar, deputy director of the J&KSBSE and head of the programme.
The authors took a different approach instead. They used themes of love and harmony to drive home the point to the children of the violence-soaked state. So a lesson called They All Came First , which is the story of a physically challenged person, stresses the need of people to help one another no matter who it is. The textbooks also draw on inputs from Kashmiri educationists.
Even as the textbooks get printed, another project with the United Nations Educational Scientific Cultural Organisation (UNESCO), a world body promoting international cooperation in the fields of education, science and culture, is also under way. This project aims to teach the teachers to tackle war issues bothering their young charges, more sensitively.
497 words | 5 minutes
Readability: Grade 10 (15-16 year old children)
Based on Flesch–Kincaid readability scores
Filed under: world news
Tags: #violence, #kashmir, #matter, #jammu
You may also be interested in these:
Double Vision
The Cookie
Super Moms
Elephants Don't Diet!....
Assam's Boys Shine in Asian Cricket