November 24: After centuries of subjugation at the hands of their men, Indian women are fighting back. We have been featuring news stories of how women across India, especially village women, are charting their own routes, learning to stand up for their rights and scripting their own successes.
For instance, the women of Nyala village in Rajasthan, who have received praise from President Bill Clinton, of the United States, for putting their village on the road to success; or the women of Simayal village in the Kumaon hills, who've done the same for their village.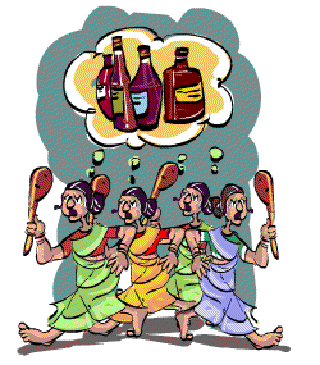 Now the women of little Dodmazari-Tekepar, a small village in Maharashtra, have declared war on alcoholism, says a report in the 'Hindustan Times'. And these women are pulling out all stops in their war against the bottle. They will thrash their husbands for drinking, raid illicit (unlawful) liquor shops, and are even willing to hand them over to the police if nothing works.
But what prompted the war? It started when an illicit liquor vendor, Jagan Asaram, got into an argument with women members of a non-governmental organization, Durga Mahila Mandal, and dared them to stop his trade. The women accepted the challenge.
So one fine day they raided his house and displayed all the bottles full of illicit liquor outside his house. Not content with that they also organised a song-and-dance programme in support of prohibition (banning alcohol).
What's absolutely amazing about the incident is that Asaram's wife led the raiding party.
One would have expected that this would have taught Asaram to beat a hasty retreat. Far from it. Instead, the man tried to set ablaze some of the women.
That was the straw that broke the women's back. About 60 women marched to the local police station and forced the station incharge to make an arrest. So Asaram was duly arrested and is currently serving time in jail.
Cheap, illicit liquor is the bane of many poor people in India. Not only does it eat away a large part of the meagre earnings of numerous families in rural and urban India, but its consumption is downright harmful to the health owing to its poor quality. Stories of men drinking away their own and their wives' earnings are only too sadly, common.
Asaram's arrest signalled the beginning of a full-scale war against alcoholism. In a scene that looked like a straight lift from a Bollywood melodramatic film about the evils of alcohol, Asaram's wife addressed the crowd that had gathered there. "We never wanted to hand over our husbands to the police. But saving our family is our first priority", she said amidst thunderous applause.
Today the police are quick to respond to complaints and crack down on illegal liquor shops throughout the region. Though reports allege that even children are getting involved now.
The women of Dodmazari-Tekepar village have been successful in their fight for they chose to put a united front. In fact, by learning to put aside their differences and act together, women everywhere can triumph in whatever they seek to do.
518 words | 5 minutes
Readability: Grade 8 (13-14 year old children)
Based on Flesch–Kincaid readability scores
Filed under: world news
Tags: #india
You may also be interested in these:
Alpana
Taming the Boors
Eleven-year-old Eco-ambassador
How Did the Indian Postal Service Start?
What Toothpaste did the Ancients Use?