August 19: For all those who are physically challenged, Abilympics offers a wonderful opportunity to do something special.
An Olympic competition featuring 'sports' like painting, tailoring, jewellery-making, book-binding, embroidery and computer programming? Welcome to the fifth Abilympics, the three-day International Skill Competition that celebrates the abilities of the physically challenged to stand on their own in a harsh and competitive world.
Held in Czechoslavakia starting August 15th, the day India celebrates her independence, the Ablilympics are quite different from the Olympics.
The Olympics feature competitive sports like swimming and running. But the purpose of Abilympics is more functional. They promote skills that help physically challenged people perform everyday activities or help them in deciding which career to opt for. Disabled persons from ages 11 to 38 can participate. But the quality of work must be of international standard.
So what types of contests feature in Abilympics? Many, according to report on the competition in 'The Hindustan Times'. From car driving and photography, and embroidery and waste-reuse, to children's activities such as computer skills, chess, and ceramics.
Also part of the show is a conference on improving the quality of life of the physically challenged and an exhibition on equipment for them.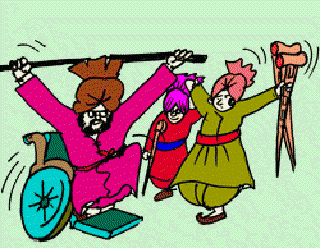 About 14 participants from India participated in the Abilympics. Besides the games, the participants introduced the Indian flavour through an eight-minute lively Punjabi folk-dance, thought of and presented by Judo coaches Suman and Gurcharan Gogi. Both belong to the Sports Authority body run by Delhi Administration.
The Indian participants were selected from over 200 competitors from 13 states at a national competition organised by the Amar Jyoti Rehabilitation and Research Centre, Delhi. Amar Jyoti is the Indian member of the International Abylimpic Federation.
Among the Indian participants were 24-year-old visually impaired computer wizard Pranav Lal who says he has 'conditions', and 11-year old Anjum, who doesn't know how to walk but does the most beautiful embroidery.
"I feel it is a disability of society to be unable to gauge the vast potential of the differently abled," says Uma Tuli, Managing Secretary of Amar Jyoti. "This participation of our children at the Abilympics with 800 others from 54 countries will be a true implementation of the Persons with Disabilities and Equal Opportunities Act passed by our Government."
The Act encourages the inclusion of the disabled in normal activities. By focusing on skills for daily living, Abilympics reaffirms that belief.
408 words | 4 minutes
Readability: Grade 11 (16-17 year old children)
Based on Flesch–Kincaid readability scores
Filed under: world news
Tags: #india, #indians, #olympics, #sports, #computers, #skills
You may also be interested in these:
Where Did Numerals Originate?
Computer Whiz Grans
How does the Army Post Office System Work?
How Did Advertising Start in India?
Strength from Within