July 22: Two young boys have done the impossible in Assam. They have pushed politicians and the continuing violence, out of the media spotlight. Both boys are stars of the Indian under-15 cricket team.
One of them, Palash Jyot Das, is the son of a bank employee. The other, Mrigen Talukdar comes from a poor family. There's nothing remarkable about their backgrounds. Much is remarkable about their achievements, though. While Palash is Asia's best batsman, Mrigen is Asia's best bowler.
What sealed the boys' reputation, was the Asian Cricket Council Championship at Kuala Lumpur, Malaysia. The Championship ended a few days ago, reports the 'The Asian Age' newspaper. In the course of the tournament Mrigen got 18 wickets. And Palash made the highest overall score of 317.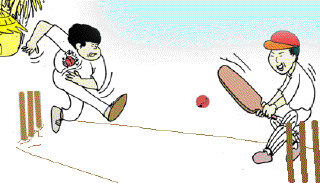 There are several similarities between the two. Both come from Guwahati. Both were trained at the Cricket Coaching Center of Guwahati. And because of them, many more youngsters are getting interested in cricket at the junior level, in Assam.
It has been a long time since people in Assam got pleasure out of small things like cheering for their boys in a cricket match. For several years now, there has been a great deal of violence in the state. Government forces and members of the United Liberation Front of Assam or ULFA have been fighting continuously. ULFA has been talking of having an independent state of Assam, which is not a part of India. Many people have been killed in the violence. People are even afraid of visiting the state.
In many movements like ULFA, which starts because people may have a genuine grievance, the original idea is lost after some time. And people become tired of the bloodshed. Most Assamese, too, are tired of feeling scared all the time. They want their old life back — a life that consists of all the usual little pleasures. Like watching and rooting for one's team in cricket matches.
Through their superior game, Mrigen and Palash have revived the sense of national pride among the Assamese. And while cheering the two local lads, people end up cheering for India.
Their fans know that the boys will have to play equally well to reach the Indian cricket team. They are wishing them all the best.
389 words | 3 minutes
Readability: Grade 7 (12-13 year old children)
Based on Flesch–Kincaid readability scores
Filed under: world news
Tags: #india, #violence, #indians, #championship, #cricket, #assam, #guwahati, #asian
You may also be interested in these:
Bhagat Singh
Viswanathan Anand – The Lightning Kid
An Olympics with a Difference
Where Did Numerals Originate?
How does the Army Post Office System Work?