November 4: The publishing world has come full circle. At one point of time, authors would run from publisher to publisher trying to get his/her book published. Then it was the turn of the publishers to run after popular authors and pay them astronomical sums just to persuade them to write a bestseller.
Now a new twist has been added to the tale: no, it's not an unknown author paying to get his book published. This time readers will pay through their nose to be a character in tomorrow's bestseller!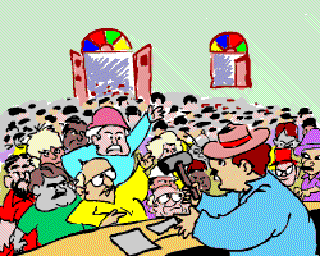 The top names among writers in Britain like Sebastian Foulkes and Hanif Kureishi are auctioning slots in their upcoming books to the highest bidder. They will then create a character in the bidder's name if not their likeness, says a report in 'The Asian Age'.
The bidding of characters for the future blockbuster books will place on December 5 in London at the British Academy of Film and Television Arts. Called the 'Immortality Auction', the proceeds will go to charity.
However, the catch is that if someone the author dislikes wins the bidding, there's no guarantee that the author will give him/her a good character portrayal. The author can make mincemeat of the bidder and the bidder will be left high and dry.
Is it that writers have run out of names to give to their characters? Haven't they seen a telephone directory?
Hit British novelist Nick Hornby of Fever Pitch and High Fidelity fame says he has no idea what his next book will be so he cannot promise anybody any particular role. However, he adds, "I'm hoping they tell me what they want done, then I will be able to write the book. The plot can come from them and I'd be happy for them to write the whole thing."
Hornby admits that Dickens, creator of such characters as Pickwick and Chuzzlewit, is the master of names, and admits that he, too, gets his inspiration from old pupils.
"I do think about names for major characters" he says but adds that he put other names in for a bet.
Well, if that's how writers come up with names for their characters, what is wrong in auctioning names of characters? So can I recommend my friends' name to be in the next Harry Potter series?
396 words | 3 minutes
Readability: Grade 8 (13-14 year old children)
Based on Flesch–Kincaid readability scores
Filed under: world news
Tags: #charity, #british
You may also be interested in these:
Sitting in Rows is Better for Primary School Kids
The South Indian Sikh
The Story-tellers
This Park Bench has an Address
Acting Colour Blind?