October 28: The recent flooding of West Bengal might have been a tragic affair in all but one respect. In a time of crisis, the animals of the region are bonding like never before. Be it the hunter or the hunted, the carnivores or the herbivores, they are all living in harmony at seven flood relief camps set up in the Bongaon region of the state.
A few weeks ago, floods hit the state of West Bengal, threw life completely out of gear and led to a large scale loss of life and property. More than 1,007 gram panchayats, 296 municipal wards and eight districts were badly affected.
Animals in the flood-hit zones were hard hit. More than four crore cattle and livestock like goats, buffaloes, sheep and poultry were affected by floods in the districts of Murshidabad, Nadia, North 24 Parganas, Birbhum, Hooghly and Midnapore. Of this, one crore died. But the state government was faced with the problem of determining safe shelter for the surviving animals.
Two non-governmental organizations (NGOs) involved in animal welfare took over from here. The two, Compassionate Crusaders and People for Animals, built relief camps on an elevated level, out of the reach of flood waters. Besides the cattle and livestock, wild animals, too, were rounded up and taken to the camps. And so it was that jackals and hyenas jostled for space with hens, ducks, cows and buffalos in these camps.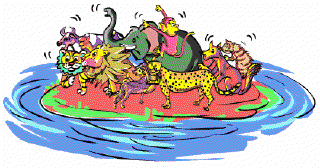 But instead of hissing at, and fighting each other for the limited space and food available, the animals are demonstrating the art of living in coexistence during times of crises. Villagers in nearby regions are flocking in to the camps to watch the rare sight of various poisonous snakes, jackals, ??civet cats?? and marsh mangoose living together with the cattle.
Perhaps the real reason for this spirit of tolerance is exhaustion. The animals were brought to these camps malnourished and dehydrated owing to a lack of proper food and water. Given such a situation, from where would they summon the energy to display predators' instincts?
But then again, they could have utilised the opportunity to fight and kill each other too, cooped up as they were in such closed places.
The animals will be kept in the camp and taken care of, until the floods recede completely. Right now though, their model behaviour could teach a thing or two, to humans.
406 words | 4 minutes
Readability: Grade 8 (13-14 year old children)
Based on Flesch–Kincaid readability scores
Filed under: world news
Tags: #floods, #space, #cattle
You may also be interested in these:
UFO Landing
Indian Children on US Mars Project
The Truth about Zoos
Know-it-alls and Find-it-outs
The Wooden God