It's a sky full of young Indian stars and superstars, in the world of chess today. Leading this amazing pack are 15-year-old Pentyala Harikrishna, and 14-year-old Koneru Humpy, who have created major records in the last fortnight. Harikrishna became the youngest Commonwealth Chess Champion, and Humpy won the World Junior Chess title, which falls in the under-20 category!
Add to the list the names of the World champion (Anand), the Boys Under-10 champion, Deep Sengupta, and several Asian champions like Krishnan Sasikiran, Pallavi Shah and M. Kasturi (Asian Under-20) among others, and what a world class line-up it is!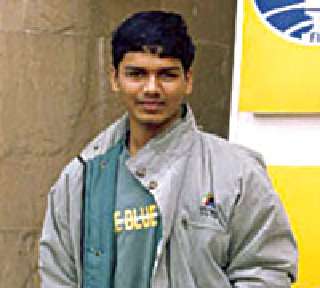 For now, Harikrishna and Humpy are the toast of the nation. And it is difficult not to note the similarities between them. Both hail from Andhra Pradesh. Both started chess at the age of five and six, and both are former Under-10 world champions in their respective sections (It is interesting that most champions often start playing chess in their childhood). Humpy's father Ashok Koneru, a chess player himself, played a big role in her taking up chess. And Harikrishna's grandfather, Ranga Rao did the same for him.
Last fortnight, it was literally a tale of two cities. Harikrishna became the youngest to lift the Commonwealth Chess Championship title, in London. There he also learnt that playing in an earlier tournament in India, he had already become a Grandmaster at 15 and had broken Anand's record!
Then it was 14-year-old Humpy's turn to break Anand's record by becoming the youngest Indian to lift the World Junior Chess title, at Athens. Showing a never-say-die spirit, both won the tie-break (how does tie break work) after tying with more players on points.
Harikrishna defeated a Greek Grandmaster Dmitiri Anagnostpoulos, while Humpy won a marathon 72-move game against Elizabeth Pahtz (from?) for her moment of glory.
Both youngsters have got the full support of their schools. The state government of Andhra Pradesh has been quick to reward them with Rs. 25 lakhs and a 500 square yard plot of land for a house in a prime area in Hyderabad. Harikrishna's sponsors Wipro and Humpy's sponsors, Bank of Baroda, have been equally supportive.
These superstars are a new breed. They prepare for matches on computers, when earlier players like Dibyendu Barooah did not get access to one till the age of 25! Much of the credit for this change in attitude toward the game goes to the original Lightning Kid, Anand.
It would be interesting to ask Anand how he feels about setting off such a positive chain reaction in India! For, in the last 14 odd years, the number of chess tournaments, media coverage and incentives for good performance have increased greatly.
This has encouraged youngsters not only from big cities where there is more information on chess available, but also from smaller places like Salem and Madurai. Today more than at any other time, there is such a depth of talent in Indian chess.
What can illustrate this better than the fact that Harikrishna and Humpy have also become the youngest Indians in the men's and women's section to achieve a place in the senior (above 20) World Championships to be held in Moscow in November this year. They will be playing alongside their inspiration, Viswanathan Anand, who must be wondering how many more of his records are going to be shattered by them in the near future!
568 words | 6 minutes
Readability: Grade 8 (13-14 year old children)
Based on Flesch–Kincaid readability scores
Filed under: world news
Tags: #india, #indians, #champions, #chess, #asian
You may also be interested in these:
Viswanathan Anand – The Lightning Kid
Testing Times for Indian Sports
Assam's Boys Shine in Asian Cricket
Hungry in the land of plenty
These Bold Police Women