October 21: Open any newspaper and chances are that you will find yourself staring at a full page advertisement of some coaching college proudly claiming that the bright young girl who topped the IIT entrance examination (her photograph is so smudged that you can't see) had been coached by their able guides.
If there isn't an advertisement in the newspaper there is bound to be a flyer or single sheet of paper concealed within the folds of the newspaper so that it catches your attention even before that news item on cricket match fixing that you are looking for.
Some of the coaching schools are smarter. They have started making sticky little posters in fluorescent colours that remain stuck to the newspaper and do not come off at any cost. To remove it you have to tear half the news report that the sticker is concealing.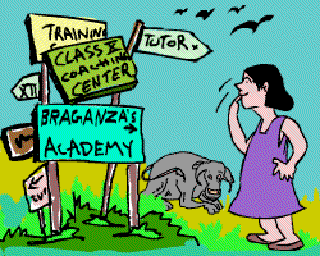 These coaching centres try every trick in the book to lure gullible students but recently, a Mumbai-based coaching centre (Chate Classes) got into quite a tangle by claiming credit for the performance of a Maharashtra Board topper.
It turned out that the student had not studied at Chate after all. This development forced the Minister for School Education in the Maharashtra government to look more closely at the working of all coaching institutes in the state.
To prevent such incidents from happening again, the state government has formulated a set of rules to regulate the functioning of coaching classes. The rules state that a fixed fee structure has to be followed by all coaching classes.
Further, all classes in the state must get themselves registered and declare the previous year's tax returns. Anyone who fails to do so, could go to jail for a year and be charged a hefty fine running into five figures.
So what are the charges? While coaching centres in villages and municipalities will be allowed to charge an annual fee of Rs 700/- per subject per student, city-based coaching classes have been asked to cap their yearly fees at Rs 1,200/-.
And thanks to the new rules, coaching classes will no longer be able to fool people with exaggerated notions of their achievements and by claiming a false credit of toppers.
In the near future you will see the advertisements of these coaching classes turn absolutely sober. They will contain only the name, address and features of the coaching classes, with no reference to the name of a particular student. The government regulations demand it.
As is to be expected, the new rule has made parents happy but got owners of coaching centres hopping mad. They haven't taken too kindly to the government's interference and plan to challenge the order in the Mumbai High Court. For the sake of their young targets, here's hoping they lose.
473 words | 4 minutes
Readability: Grade 8 (13-14 year old children)
Based on Flesch–Kincaid readability scores
Filed under: world news
Tags: #mumbai, #student, #rules, #maharashtra
You may also be interested in these:
Asia's First Floating Museum
Teaching a Lesson!
The Earthworm's Good Turn
Silence that Spoke of Protest
Indian Children on US Mars Project