Where: Birmingham, UK
November 25, 2000: A few weeks ago, we wrote about Indian-born Roshan Doug, who has been selected as the poet-laureate for the city of Birmingham in Britain. Close on the heels of that news comes another: Birmingham councillors will be giving an Indian name to a few suburbs in the city.
Birmingham's Apna Town
Apna Town (our town) will be the new name for Sparbrook, a group of suburbs in Birmingham city. So this Christmas, if you drive past the Midlands (160 km north of London) you can see the Apna Town signage in English, Hindi, Gurmukhi and Urdu. A report on this, written by 'India Abroad News Service', appeared in the 'Asian Age'.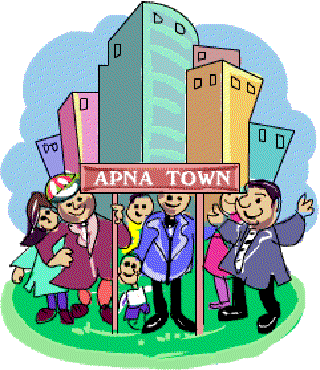 Birmingham has a sizeable Indian population and they are a fairly successful community in this city. A good number of them live in Sparbrook ward, and the reason why it is locally called the 'Balti Belt'. Know why? Indian restaurants in Britain serve gravy items in a Balti or pail. And these meals are obviously popular items for the British palate.
Some of the Birmingham Indians have contributed money towards revamping the suburbs of Sparbrook. Recently, when the proposal for renaming the area came about, these residents suggested that it be called Apna Town. The name was then placed before the local Regeneration Board (that looks after the city's civic issues), which approved it.
The move does not please everyone though. "These plans are taking the Britishness out of Birmingham", says Councillor Peter Douglas Osborn, who belongs to the Conservative Party in Britain. "Apna Town doesn't give the impression of a multi-cultural society. It simply gives the impression of a cultural group coming over from the Indian sub-continent and planting itself there", he added.
The Conservatives are critical of Britain's Labour government's move to welcome skilled migrants from Asian countries to supplement the British work force.
Others say it is insulting to the heritage of the city.
Unity in Diversity
Actually the move is part of a larger effort by British authorities to build Britain into a multi-cultural society whose diversity is reflected in British institutions, and cultural and social mores.
Britain today has a large number of people who are not British by origin but are citizens nevertheless. These people arrived in Britain from various countries like Bangladesh, India, Pakistan and the West Indies, all former colonies of Britain. In fact Britain's cultural diversity finds its origins in its imperial history when Britain ruled a large part of the world.
Britain's Past
To atone for its policy of colonialism (political and economic control by one country over a dependent country), Britain in the 1960s followed an immigration policy that encouraged people from its former colonies, like India and the West Indies, to migrate to it permanently. Many did and are today doing relatively well for themselves.
But critics against the British immigration policy (the policy that deals with making a person not native to a particular nation a permanent citizen of that nation) argued that the influx of migrants in Britain would result in the migrants outnumbering those originally from Britain. So the Immigration Act of 1971 toughened the existing laws by erecting barriers against the easy migration policies of the previous era.
However, the policy of closing the doors to migrants backfired. Britain has now embarked on what the reputed British paper 'Financial Times' describes as the biggest revision of immigration rules in 30 years.
And its Present
The new Immigration Act will allow up to100,000 immigrants entry each year into Britain. Most of them are going to be computer and Internet specialists. The government plans to do everything it can to ensure that this sought-after group does not migrate to other countries in the European Union.
The Asian-born British community has never had it so good, either. Reports in British papers gush about how British Prime Minister Tony Blair likes to be seen in the company of Indian-born Reuben Singh, a hotshot fashion designer who, at 25, is one of Britain's wealthiest businessmen. Gala dinners hosted by rich Indian or Asian-born businessmen regularly have the cream of British society, flocking to be seen there with them.
Immigrants' Success
In British eyes, the success of the immigrant community in Britain is an impressive one. They are generally better educated than the average British and make a significant contribution to the labour pool in Britain. Many of them, especially the Indians, belong to highly skilled professions like engineering, medicine and scientific research.
Indian parents, particularly those from the middle class, regard education as the key to success in life. They ensure a stable home environment for their children, take keen interest in their children's academic performance, and insist that they work very hard to do well in future. A study undertaken in Britain recently pointed out that these characteristics were responsible for children of Indian parents outperforming white children in Britain.
And that's not all. Like most other developed countries, Britain too is seeing a large part of its population becoming old. This is so because in developed countries, people have fewer babies. The result being that a corresponding number of people are not getting born to replenish the increasing numbers of those growing old.
So it's not surprising that studies are showing Britain facing a scarcity of skilled workers, especially in the field of information technology (IT) and engineering sectors. Britain has thus been forced to look eastwards to lure engineers, IT specialists, even teachers, to supplement the labour force in Britain. This group is sought-after not only because it is skilled, but also because it, particularly the Indians, speak good English.
But it's not easy for the British to come to terms with the reality of their country becoming a melting pot of various cultures and people. Normally conservative and a class-conscious people, they are somewhat unsettled at the changes that have befallen Britain. Many among them still hark back to the days when Britain ruled the waves and they could dictate terms to the rest of the world.
Now the British often find terms being dictated to them. What's probably most difficult to swallow, is that these terms are dictated by the very people whose countries they once lorded over.
But the British government plans to change this attitude. Among its efforts at promoting multiculturalism in the country, are plans to introduce a programme to ensure that the new migrants integrate with existing society and thus entrench themselves in. It is that keen to retain them. Would a programme to teach the British to integrate with the newcomers, prove to be more effective?
1110 words | 11 minutes
Readability: Grade 10 (15-16 year old children)
Based on Flesch–Kincaid readability scores
Filed under: world news
Tags: #indians, #british, #asian, #immigration, #society, #great britain, #birmingham
You may also be interested in these:
Romance of Postage Stamps
Joy of Making Indian Toys
Satyajit Ray
Gems of Indian Literature
Finding a Match for an Elephant