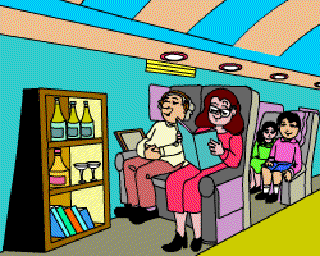 December 9: You remember how plush and huge the Titanic was? It was a ship any one would want to travel in. Don't you wish travelling in an aeroplane could be made as comfortable instead of you being crammed into a place where you can't even stretch out to sleep? Well, very soon you will actually be able to make your dream come true !!
One of the biggest aeroplane manufactures, Airbus Toulouse of France, is planning to make air travel really oomph, reports The Hindustan Times. Even before it is completely made, the new plane, A3XX, is being called the "cruise ship of the skies." A3XX will have a premier class, which will actually be a salon with a thick carpet, walls lined with bookshelves and subdued lighting. The picture will be complete with a pianist in evening suit to liven up the travel.
Ooh. Sounds so good. Wait, there's more – the seats will be convertible into beds, a grand staircase will lead to the upper dining floor where champagne will flow. And added to this jazz will be a casino, a duty-free shopping area and a shower room! But A3XX will be ready to fly only in year 2006.
And where will all this be accommodated? The plane is going to be a huge 80-metre long one that can fit in 555 people. However, one sad part is that the plane is being made in such a way that there is no chance for the economy class and the premier class to mix. So the former will not even get to see the good part of the plane.
Singapore Airlines, France Air and Emirates have already said they will buy the plane but the smaller airlines are still thinking. This got Airbus thinking and the company has decided to make the premier class convertible into the economy class if some airlines so desire. Then, the plane will be able to take in 850 people.
Airbus thinks that with A3XX, they are one up on Boeing, the other large aeroplane manufacturer. This is because: A3XX can carry 35 per cent more people than a Boeing 747; the people in the economy class will have one more inch of leg space and the plane will be quieter than any other aircraft.
But Airbus's work doesn't end with making the plane. The company has to now see that A3XX will be able to land at the 50 major airports in the world. So while London's Heathrow Airport might be able to make the changes in the present costs, 80 million pounds (roughly $3733 million) will be needed to fix up New York's JFK Airport for the A3XX.
455 words | 4 minutes
Readability: Grade 7 (12-13 year old children)
Based on Flesch–Kincaid readability scores
Filed under: world news
Tags: #france, #economy, #travel
You may also be interested in these:
Tintin Storm in 'Millionnaire' Show
Why do We Cup Our Hands When We Shout?
Mind the Manners!
Why do we Celebrate April Fool's Day?
Space Tourism: Ready for a Skyrocketing Holiday