October 28: Do any of these names make your heart sing a sonnet – Oliver Goldsmith, Wordsworth, Shelley, Keats, Byron? All of them are famous poets of England of long ago. But where has the poetry of these poets gone today? Is it only to be confined to a select few intellectuals, the older generation, and to the dusty cobwebbed shelves at home?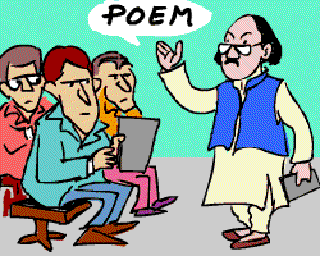 Will the younger generation sweep aside the lyrics of Madonna and Michael Jackson and read classical English verses that are literally poetry-in-motion?
Very likely, if it is up to Roshan Doug, the new poet laureate for the city of Birmingham, England. In fact, Roshan is the first Indian to be appointed to the post of poet laureate (A poet laureate is a person honoured for artistic excellence or acclaimed as best representative in a locality or group) in England. The "Asian Age" carried an article on him recently.
Roshan Doug, is a Jalandhar-born (in Punjab, India) writer, author of two books. A graduate from the University of Lancaster with a Master's in English from Nottingham University, he initially taught at London and at Athens, Greece before returning back to Birmingham.
Doug was selected for this post from among 20 other aspirants. He was chosen by convincing the selection committee that "he would try and make English poetry available to the Asian community. They cannot rely on Bhangra (Punjabi folk music) forever."
Birmingham has a sizeable population of Indian and Asian immigrants, and it's the hometown of another Indian-born Bhangra rap singer Apache Indian. The younger Asian generation have gone in wholeheartedly for a fusion of Bhangra, rap and reggae in a racial mixture of nonsensical verse forgetting the beautiful verses immortalised by English poets.
Roshan Doug is currently the poet-in-residence at Dudley College, in Birmingham and part time lecturer at the English department at Birmingham University.
In his new post, Roshan said, "I am thrilled to be appointed to this prestigious post. I particularly want to make poetry available to all communities and also target people who would not normally get involved in the medium".
As poet laureate of the city of Birmingham, Roshan will hold the post for a period of 12 months. He and 10 other poets in his team will try to spread the benefits of poetry reading and writing to the public.
396 words | 3 minutes
Readability: Grade 10 (15-16 year old children)
Based on Flesch–Kincaid readability scores
Filed under: world news
Tags: #england, #indians, #asian, #generations, #university, #birmingham
You may also be interested in these:
Conquering Britain!
Assam's Boys Shine in Asian Cricket
How Many Kinds of Rhinos are There?
Indira Gandhi
Dr Sarvepalli Radhakrishnan