July 15: Heroes are people admired for certain noble qualities. Like standing up to wrongs committed by others. And doing something to right those wrongs.
Recently, a few men were honoured as earth heroes for what they have done for wild animals. They were awarded Millennium Awards for Wildlife Service reported The Asian Age newspaper. The awards were started this year by Sanctuary magazine and ABN AMRO Bank.
The earth heroes have fought several battles. With authorities who don't care what happens to animals. With poachers who don't respect laws and hunt animals. Even endangered ones. And with hostile locals who don't understand the need to protect or look after the wildlife in their neighbourhood.
So who are these earth heroes?
They are men who have one, true love – nature.
J.C. Daniel has won the lifetime service award. As a child he had three cows, four dogs and a cat to look after. After growing up, he has been looking after the country's wilds. In fact, he has been looking after them for 50 years. He is considered to be an expert on the Indian elephant and leopard.
Then, there's G.V. Reddy, who calls himself a bagh sevak . As the District Forest Officer (DFO) of Ranthambore National Park, Reddy had a constant battle with animal poachers and hunters. After he took over as the DFO, the illegal hunting of tigers reduced considerably and life became better for both the animals inside the park and the forest department staff.
But Reddy feels that the Rajasthan forest department is not doing enough. It has not hired anyone for the past 10 or 15 years. And Reddy is forced to spend a lot of his time in court, fighting cases filed against him for doing his duty.
Achalender Reddy won the award for his work on a kind of turtles called the Olive Ridley turtles near the coast of the eastern state of Orissa.
The Olive Ridley turtles come to this coast every year during their breeding season. In fact, it is biggest nesting site of Olive Ridleys in India. But, the turtles have been facing some problems in the past few years. A lot of them get killed by the paddles of huge fishing boats that ply in these waters. So the number of Olive Ridleys which come here to breed has been reducing year by year.
Reddy has now taken on the job of seeing to it that the turtle eggs are safe till they hatch and then the young ones are taken care of. He has marked two Orissa beaches — Morjim and Galglibagh — to carry on his work.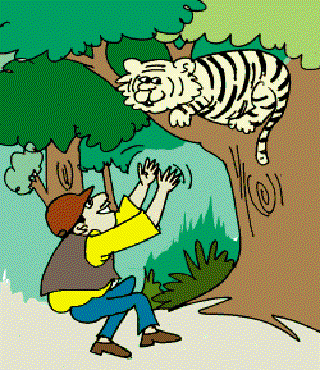 Subrata Pal Chowdhury, who works with the West Bengal Wildlife Wing, has been named as another earth hero. He has helped rescue stray wild animals from all sorts of dangerous situations. Once Chowdhury rescued a pregnant tiger sitting on a tree. On another occasion, he saved dolphins who had got washed onto the coast. And once, some elephants who had stumbled into a pit.
Once, an elephant had strayed out of the forest into the fields looking for food and water. Angry farmers called him names and chased him, throwing acid bulbs at him. The bulbs burnt his hide. The poor elephant was hungry and wounded, and kept running. He was also very scared and had no idea where he was going. Chowdhury chased him for three hours before calming him down with an injection. He was then transferred to the forest.
Do you know of any such heroes who may not have received any awards, but are doing a lot of work that needs to be highlighted. Write to us and let us know about them.
625 words | 6 minutes
Readability: Grade 5 (10-11 year old children)
Based on Flesch–Kincaid readability scores
Filed under: world news
Tags: #coast, #wildlife, #dolphins, #olive ridley turtles, #turtles
You may also be interested in these:
Born to Love Animals
The Nest
A Royal Diet of Mangoes
The Great Barrier Reef
Why Do Turtles and Tortoises Live So Long?