Britain wants Indian engineers to help modernise their London-Glasgow railway link, and that's a real about turn! Nearly 150 years ago, Britain was the first country to use steam locomotives.
The British also built the first rail tracks in India and set up India's railway network with one purpose – they wanted to collect raw material such as cotton from different parts of the country so that they could be shipped to Britain. And later, when the ready-made products came back to India, they used the rail network to sell them by reaching different corners of the country.
The rail network was constructed by linking cities in the interior like Agra and Kanpur in the northern Indian state of Uttar Pradesh to cities like Delhi and Chennai and major ports like Mumbai and Calcutta. Thousands of miles of rail track were laid and this has, by and large, remained unchanged.
But today, the world has come full circle. Indian railway engineers from Rail India Technical and Economic Services (RITES), a public sector consultancy firm, will help British railways to modernise the London-Glasgow railway link. Britain lacks people with engineering and manufacturing skills.
In another sharp turn, patients from Britain will soon be coming to Indian hospitals for treatment.
All along one thought it was Indians who would do anything to get medical treatment abroad. Basically, Indians have a poor opinion of their own doctors and think that they lack skills and are not as good as doctors all over the world.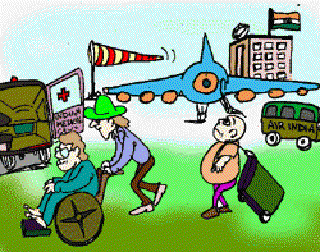 Well think again! Come September and Indian hospitals will admit British patients coming in to be treated for cataract, hernia and even cosmetic surgery. This is because Britain has a long waiting list for patients. Sometimes it takes a year to get a minor operation done. Also it costs far less to do an operation in India than abroad.
These patients will either go to hospitals in Mumbai, Chennai, Goa or Thiruvananthapuram. They prefer to avoid Delhi totally even though it has the best hospitals. Reason? It is very polluted.
347 words | 3 minutes
Readability: Grade 7 (12-13 year old children)
Based on Flesch–Kincaid readability scores
Filed under: world news
Tags: #india, #railways, #indians, #london, #british, #doctors, #patients, #great britain, #hospitals, #engineers
You may also be interested in these:
A Train of Villages on the Net
English and Indlish
R.K. Narayan
Conquering Britain!
Romance of Postage Stamps