July 31: A spy will be hired to keep a watch on the activities of cricket players in Pakistan. This decision has been made by the Pakistan Cricket Board (PCB). The idea is to prevent the players from fixing any more matches.
The spy will shadow the team, stay in the hotel and keep an eye on the cricketers. Like who they meet, where they go, and when they return to the hotel. So anxious is the PCB that the job is well done, that it has decided to keep the identity of the spy a complete secret. The players will be told about the appointment of a spy so that they feel nervous all the time. A report on this was carried by 'The Asian Age' recently.
The PCB chairman, Lt. General Tauqir Zia, also admits as much. "A person would be appointed who would work undercover and report only to me", he has said. Right now, no one knows what the professional qualifications of such a person will be. But he could be someone from the regular spy network of Pakistani Intelligence. After all, who better than a spy to spy?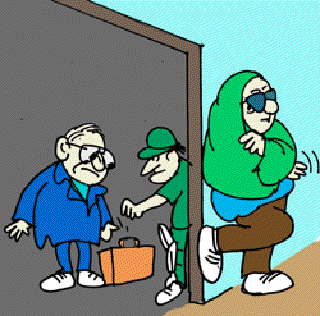 This person is being referred to as a 'mole', which is slang for spy. For, like a mole which digs deep inside the earth, a spy, too, is required to dig deep into puzzling matters and uncover crimes.
This 'mole' will begin his sniffing and digging from early August when the team begins its Singapore tour.
Newspapers have talked about the involvement of Pakistani cricketers in the worldwide match fixing scandals, with players taking bribes offered by bookies or betting agents to throw or lose a match. First the bookies place bets predicting which of the teams will win or lose, depending on which option is more profitable. Then they manipulate the outcome of the match by bribing players.
Hence, PCB's move to hire a spy to tail the cricketers. They are hoping that fear will keep the Pakistani cricket team on its best behaviour – at home, in hotel corridors, on the mobile phones and at the cricket pitch.
There is no news of what the players feel about this development. But it can be safely predicted that they will be looking over their shoulders more often now. Which is most probably the reaction that the PCB wants. Except that the players may get a crick in their necks from this fearful exercise.
419 words | 4 minutes
Readability: Grade 7 (12-13 year old children)
Based on Flesch–Kincaid readability scores
Filed under: world news
Tags: #pakistan, #pakistani, #cricket, #cricketers
You may also be interested in these:
Little Ali's Heart
A Penalty Kick into Disaster
The Boy who Lacked Sight but Had a Vision
Assam's Boys Shine in Asian Cricket
Chintu Pintu Talk on the Net Again