All over the world achievers are getting younger and younger. A few weeks ago we had written a report on five Indian schoolchildren from south India who landed jobs with a famous American company called Lucent Technologies. Before that it was five children from Lucknow (Uttar Pradesh) who had walked away with a huge haul of medals at the World Robotics championship, in Canada. Now it is the turn of a few schoolchildren in Delhi to get creative by making a 40-minute film all by themselves.
And they are all under 13.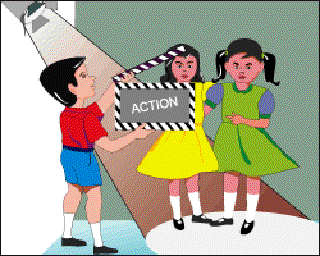 Called 'Chikki', the film has been directed, scripted and enacted by 26 children of Ryan International School. It is the story of an orphan girl, Chikki.
The film certainly has been worth the effort. It is going to be screened at the Japan Film Festival for children in November. And its young makers are thrilled that so many people are going to watch it there.
Roshni Soin, who is all of 11 years, is acting as Chikki. Roshni's best friend in real life, 13-year-old Subha Anand, plays her best friend in 'reel' life also. Besides acting, Roshni and her friends wrote the script and all the songs in the film, and decided the costumes to wear, where to record, how to shoot right and how to choreograph or arrange dance sequences.
So enthusiastic were the kids about the film, that they finished making it in a very short while – only 25 days.
The film was part of a school project. The cultural and creative director of Ryan International, Utkarsh Marwah, guided them about aspects of filmmaking. He gave them a short training in basic filmmaking such as handling the camera among other things.
"But they just didn't let us guide them while shooting," he remarked in an interview with 'The Hindustan Times'.
These children are not the youngest to direct a film though. Across the seas in the United States of America, an 11-year-old boy, Chaille Stovall, has been directing short films from age eight onwards. Now he is all set to direct a feature film called 'Camp Grizzly'. This feat will make him the youngest feature film director in Hollywood history.
By doing this, guess whose record Chaille is going to break! Famous Hollywood director Steven Spielberg's. Spielberg was only 13 when he directed a war-film called 'Escape to Nowhere'. Not only did he become Hollywood's youngest director as a result, but also won an award for the film and for other films made in adulthood such as 'ET' and 'Jurassic Park'.
Are these young filmmakers planning to follow in his footsteps?
446 words | 4 minutes
Readability: Grade 7 (12-13 year old children)
Based on Flesch–Kincaid readability scores
Filed under: world news
Tags: #films, #hollywood, #steven spielberg
You may also be interested in these:
Which Film Stars were Inventors Too?
All About Dinosaurs
Bruce Lee
Talkie Star from the Silent Era
IMAX the High-Tech Theatre