July 31: Monsoon in Orissa has meant only one thing in the recent past: floods. It's no different this year. Floods have left 85 lakh people in over 15,000 villages homeless. The official death toll: 80. And one lakh hectare of crops have been submerged.
About 5,000 kilometres of roadways, 500 kilometres of the national highways, and piped water supply sources to 61 towns have been submerged, causing widespread chaos and distress. As happens in such situations, water-borne diseases like diarrhoea, malaria and jaundice have affected more than 15,500 people, says a report in
The Times of India.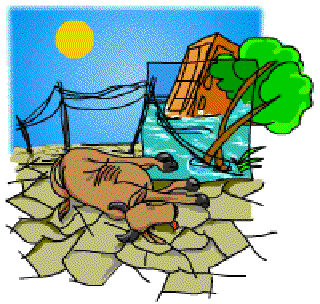 Orissa, it seems, is caught in a vicious circle of suffering. A severe drought in the mid 1990s led to mass starvation deaths at a time of surplus agricultural produce. Three thousand people died. The "super-cyclone" of 1999 killed over 20,000 people in the east coast. More than 278,000 families became homeless.
Before the state could recover from the cyclone, when a severe drought in the year 2000 caused another wave of starvation and loss of 80 per cent of the paddy crop. And now the flood…
The terrible part of all this is that the extent of destruction and death is largely the result of human human mismanagement, rather than natural calamities. And the state government has never really got around to having a long-term plan for the management of river systems and planning bulwarks against drought.
And so after every "disaster", the people are left a little more impoverished than before, and incapable of rebuilding their lives. That is Orissa's reality today.
269 words | 2 minutes
Readability: Grade 7 (12-13 year old children)
Based on Flesch–Kincaid readability scores
Filed under: world news
Tags: #india, #cyclone, #floods, #disaster, #drought, #orissa, #starvation
You may also be interested in these:
Precious Boats
Orissa Police's Feathered Force is Dying
Where does the Pigeon Post Operate?
The Day it Rained Fish
The Flood