Where: Worldwide
June 24, 2000 : British grandma Jennifer Murray turned 60 in Calcutta some days ago. But she is no ordinary grandmother. In 1997, she entered the Guinness Book of World Records by becoming the first woman to pilot a helicopter around the world. And now she is determined to become the first solo woman to circumnavigate the world in a helicopter. She was in Calcutta for a brief halt in the journey.
Grandma Murray is doing it for a cause. She is being sponsored by an organisation called the Pacific Century Cyber Work's Network of the World. Their aim is to raise one million dollars for a very special project called Operation Smile. The project is run by a group which helps children who need to have facial surgery. The project is running in 16 developing countries. And Grandma Murray is flying for the cause.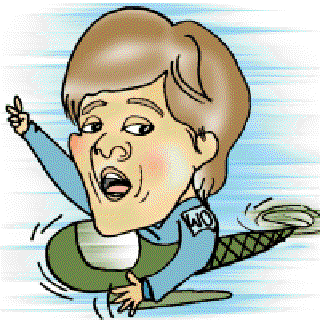 One would think that she has been flying helicopters all her life. Wrong. She learnt to fly six years ago when her husband bought a helicopter. And she made time for this new passion to show people that age does not matter if you want to do something.
Jennifer Murray has many facets or sides to her. She is a textile designer, an artist, photographer and pilot.
Like Jennifer Murray, 30-year-old Jamie Andrew was also in the news last week. He had climbed Britain's highest peak, Ben Navis — an extraordinary feat considering that he does not have hands and feet.
He lost them in a mountaineering mishap last year. Inclement or bad weather had trapped him on the mountainside in the French Alps. Jamie suffered heavy injuries due to frost bite, and had to have his hands and feet amputated. His best friend who had been with him did not survive the mishap.
Despite the terrible tragedy, Jamie did not lose heart. He climbed Ben Navis with the help of a pair of artificial legs and walking steps fitted to the stumps of his arms. The courageous mountaineer did it for a charitable cause.
350 words | 3 minutes
Readability: Grade 7 (12-13 year old children)
Based on Flesch–Kincaid readability scores
Filed under: world news
Tags: #pilot, #helicopter, #grandmother, #calcutta
You may also be interested in these:
The Family Album
Joy of Making Indian Toys
Children's Museum says no to Dolls, Yes to e-games
Durga Puja in Calcutta