September 7: The horse is a symbol of strength, power and stamina. Ever wondered about the secret behind its energy? It is the kind of food the animal eats. Ask the person who has to keep up the energy levels of one of the world's costliest racehorses, Fusaichi Pegasus, worth all of $4 million (approximately 1.8 crore rupees).
That is the reason why US Olympic swimmer, Gary Hall, is all set to imitate Fusaichi Pegasus' diet in the hope that it will work wonders for him at the forthcoming Olymic Games.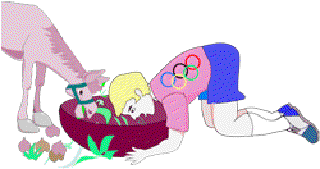 Hall's coach, Mike Bottom, says that his swimmers are using the human version of the nutritional supplements that are provided to the racehorse. The food that they eat is full of proteins and is called 'Horse Bars', as reported in 'The Times of India'.
Not only this, athletes participating in this year's Olympics shall be wearing specially made full-length body suits. Studies have shown that the body suits improve performance by three percent. In a sport where races get decided by the thousandth of a second, this is a real boon.
These bodysuits are very smooth and cling to the body. Acting like second skin they reduce the friction between the water and the body of the swimmers, thus helping them swim faster in less time. Since smooth surfaces reduce friction, many athletes shave off their hair also!
Viewed as the most significance advancement since the 1970s, it has led to record-breaking performances. "The suits are faster than any we have seen,"
said swimmer Jenny Thompson, who lowered her eight-year-old American record in the 100 metre freestyle during the trials.
Chinese athletes have their own ways of increasing their stamina levels – they are said to drink turtle blood tonic.
Knowing the risks involved in consuming drugs, athletes are trying out various "natural" ways to improve their stamina. But how effective they are, only their performances will tell.
329 words | 3 minutes
Readability: Grade 8 (13-14 year old children)
Based on Flesch–Kincaid readability scores
Filed under: world news
Tags: #athletes, #olympics, #swimmers, #horses, #friction
You may also be interested in these:
A Green Olympic Village
How did the Modern Horse Originate?
Where Did Chess Originate?
I Carried the Olympic Torch
Why is a Hippopotamus called a River Horse?