May 11: From the kitchen floor of the house to the Floor of the House or State Legislative Assembly – that is the distance Lakshmi Parui is hoping to cover.
A widow in her late 50s, who supported herself by working as a domestic help in semi-urban Balagarh till a few weeks ago, she contested the West Bengal state elections on May 10. She has contested the elections as an ally of Mamta 'Di', leader of the Trinamool Congress. She was pitted against Communist Party Marxist MLA Dibakantha Rauth, a school teacher, in Balagarh constituency, Hooghly district, says a report in
The Times of India.
And it was a hard campaign for Lakshmi Parui, but she did it in style. After all, following her husband's death 22 years ago, she has brought up her three children single-handedly.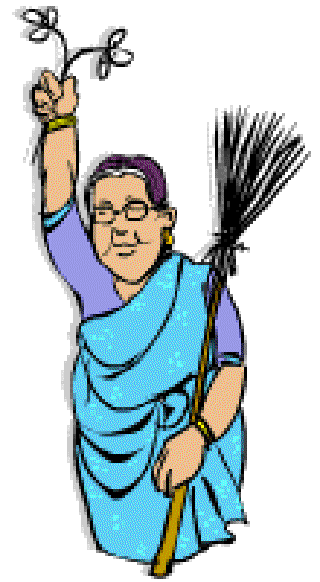 So, at the dot of 6 am, she would be ready for a door-to-door campaign on foot, sometimes on a rickshaw or balanced on the bar of a cycle! No car, no microphone. She walked straight into kitchens, through the crowded lanes and along the railway track.
What was clear was that she was totally comfortable with the people she was addressing – though these people were from different sections of society. Some were like her former employers, more prosperous. Others were landless farmers who work for others. Then there were people from the fishing community to which Lakshmi Parui belongs, the boatmakers and factory workers as well.
What did she tell all these people? "I am one of you, poor and faced with the same problems, so vote for me and I will try to do my best for this area," she is quoted as saying in the newspaper report.
Politics is not an entirely new experience for Lakshmi Parui. Three years ago, she contested a Panchayat elections and lost to the CPM candidate by one vote.
325 words | 3 minutes
Readability: Grade 8 (13-14 year old children)
Based on Flesch–Kincaid readability scores
Filed under: world news
Tags: #india, #elections, #kitchen
You may also be interested in these:
Holi in Fiji
Batik: Ancient Art of Painting in Wax
The Wedding Chain
Here Comes Pujo!
What is Vetiver Grass?