Where: Wardha district in the western state of Maharashtra, India
October 6 : Every year, October 2 is observed as Gandhi Jayanti in India. Both children and adults look forward to this day, but not to commemorate the birth of 'the greatest Indian since the Buddha, as Mohandas Karamchand Gandhi has been called. It is more to enjoy the national holiday that falls on this day.
To most people Gandhi Jayanti is more like a history lesson they learnt by rote in school. There is very little that is remembered of the principles he stood for, beyond the standard one liners like "simple living, high thinking, and non violence".
So one is not surprised to read a report in The Indian Express about the slow decay of the school that Gandhi built.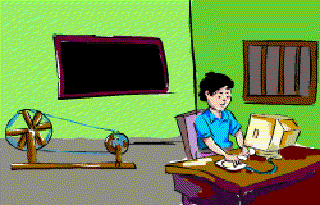 The report writes about Sevagram Ashram in Wardha. The ashram was set up by Gandhi to house his associates and followers. A school, 'Nai Talim Sangh' (Organisation of New Learning), was the independent educational wing of the ashram.
This is the school that Gandhi built; a school that he dreamed would enable future generations to think fearlessly with their minds and yet not lose the ability to work with their hands to create someting beautiful and useful.
Today, the school teaches the basics of the alphabet to around 25 children between the ages of three and five. They are the children of employees hired by the ashram.
The Nai Talim Sangh was known as the Hindustani Talim Sangh, when it was set up in 1938. Gandhi wanted it to impart basic national education to children. He thought it would create generations of youth who would contribute to building a truthful and non-violent society, and at the same time, learn a few useful crafts.
Even as late as 1974, the school flourished. Seven hundred students pottered around the premises, learning the alphabet, techniques of traditional agriculture, the special charkha (spinning wheel), and cooking community meals. That very year, however, it was forced to shut down.
It's not just that people aren't interested in imbibing Gandhi's teachings any more. Gandhi's followers too have failed to follow the Mahatma's basic teaching of 'changing with time'. Most are content to follow his thoughts with a mindless rigidity.
As a result, parents feel happier sending their kids to 'normal' schools as opposed to a school that follows the Gandhian philosophy. The Gandhian schools, they feel, are not in tune with the realities of the present world.
Over 70 years ago, Gandhi felt that children were forgetting the dignity of working with their own hands. He was convinced that reviving the dignity of manual labour was a very important part of education. That is why Gandhi emphasised equally on learning to grow food, spin cloth, cook simple meals as well as learn how to read and write. But it appears there are few takers for his views today.
492 words | 4 minutes
Readability: Grade 8 (13-14 year old children)
Based on Flesch–Kincaid readability scores
Filed under: world news
Tags: #india, #indians, #generations, #ashram
You may also be interested in these:
Made to Order
Indian Children on US Mars Project
The Olympic Gold Rush
The Common Man's Film-maker
Dead Poet's society