Where: The Gaza Strip
January 06, 2009 : Israel launched air strikes on the Gaza Strip on December 28, 2008, and the attacks grew to a full-fledged war within days. The Gaza Strip lies along the Mediterranean Sea. It is not a part of a recognised sovereign state, but it is home to the Palestinian Arab people, numbering about 1.4 million. The area was under Israeli control until 2005. Since 2007, it has been administered by a radical group from the region called Hamas. Israel says the attacks are in retaliation against the rocket bombing of its territories by the Hamas.
In northern Gaza, the attacks have been most severe, with bombs, gunfire from helicopters and artillery attacks from land and sea. Thousands of Palestinians have fled their homes. On Tuesday, January 6, 2009, the total number of Palestinian lives lost had crossed 600. At least one-fifth of the victims, over 120, were children. In violation of international humanitarian law, Israeli missiles hit two United Nations schools, killing 13 people. The schools were attacked even though the locations of all such UN installations had been made known to the Israeli authorities before the fighting began.
The United Nations said over 1 million Gazans were without electricity or water. The Gaza Strip has its longest border with Israel, which means it is dependent on Israel for the constant supply of essential items including food. The region is facing a scarcity of clean water, power, food, medicines and other supplies. Its residents have no way of getting any news about what is happening, either. The UN emergency relief coordinator, John Holmes, said Gaza was undergoing an "increasingly alarming" humanitarian crisis.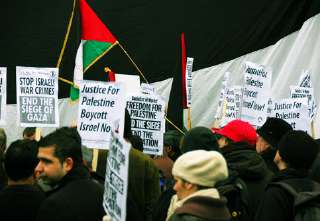 Israel's defence minister, Ehud Barak, said the operations would continue, regardless of the increasing international appeals for a ceasefire.
305 words | 3 minutes
Readability: Grade 8 (13-14 year old children)
Based on Flesch–Kincaid readability scores
Filed under: world news
Tags: #nations, #israel, #palestinian
You may also be interested in these:
Sri Lanka's Humanitarian Crisis : Thousands Trapped in War Zone
First Pope To Set Foot in Mosque
Olympic Swim Against the Tide
Messing Up, Alphabetically
Three Nations or One?