March 19: Before it was Holi in India, phagua, as Holi is called by the Indo-Fijians, was already being celebrated. The Fiji Islands, in the Pacific Ocean, are six-and-a-half hours ahead of Indian time and the Indo-Fijians were already singing chautal, an oral tradition of celebration.
For the community, memories of India go as far back as 120 years, when the first batch of Indians in colonial India, were taken to Fiji, also a British colony, as labour. As is the case with many immigrant communities all over the world, celebrations always seem to carry a greater echo of 'home'. And so it was during phagua.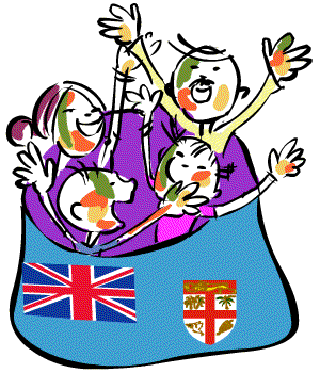 At Muaniweni, it was the first celebration after a long time. Phagua was a welcome break and a chance to meet everyone, reports The Hindu. Collected together in their mandlis or groups, the groups started early. The chautal were sung in the three temples there.
After the traditional natch-gana or song and dance was over, they all moved on to one reveller's house – just like they do in India. And then it was time for the gulgulas or fried sweetmeat and juice, in tune with the gujiyas (another sweetmeat) and thandai or a cooling drink made of milk and nuts, in India.
With the puja done and the stomach full, it was time to go wild with the colours. The colour popularly used in Fiji is a purple-coloured gulal or dry coloured powder made from a local flower called abir. Only purple gulal? No, purple gulal and white powder, which was actually a talcum powder for babies!
Guess what they used instead of pichkaris or small spray pumps? Coca Cola bottles!
285 words | 2 minutes
Readability: Grade 7 (12-13 year old children)
Based on Flesch–Kincaid readability scores
Filed under: world news
Tags: #india, #celebrations
You may also be interested in these:
The Story of Dussehra
The Story of Diwali
Makar Sankranti
Janamashtmi – The Day Krishna was Born
Was Christmas Celebrated Thousands of Years before Christ's Birth?