Where: Los Angeles, USA
February 22, 2009 : India awoke to the sound of cheers and applause last Monday as 'Slumdog Millionaire' fetched two Oscars* for A.R. Rahman and one for Resul Pookutty. With the American-made film 'Smile Pinki' about an Indian girl winning the Oscar for the best short documentary, the focus was definitely on India.
Slumdog Millionaire, directed by the recognised British filmmaker Danny Boyle, is about an Indian boy. The film has an all Indian cast, and was shot in Mumbai with Indian technicians. A.R. Rahman, one of the country's best known musicians, became the first Indian to win two Oscars (Best Original Score as well as the Best Song, 'Jai Ho'). Rahman's acceptance speech was simple, and the maestro modest in victory. The honours for best song are shared by the famous lyricist Gulzar. Rahman had earlier won the Golden Globe and the BAFTA awards for his work in the film.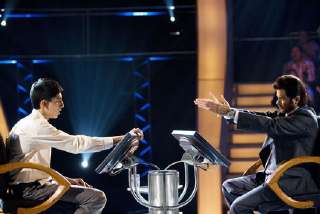 Resul Pookutty, who recently won a BAFTA for Slumdog, started life in one of India's poor villages. He has become the first Indian film technician to win an Oscar. He was nominated for Best Sound Editing, as well as Best Sound Mixing, and won in the second category.
"Smile Pinki", directed by American filmmaker Megan Mylan is the story of Pinki, a child from a small Indian village, and how surgery for a cleft lip changed her life. Pinki and her father were on the stage with the director at the awards ceremony. When the Oscar for the Best Film was announced, the entire cast of Slumdog Millionaire went up to take the award. Young Rubina Ali and Azharuddin Ismail, who come from the slums of Mumbai, and who played the lead characters' younger selves, had been flown in for the big day. Their smiles said it all.
*The 'Oscars' is the popular name for the Academy Awards, presented annually by the Academy of Motion Picture Arts and Sciences in Hollywood, Los Angeles, USA.
339 words | 3 minutes
Readability: Grade 7 (12-13 year old children)
Based on Flesch–Kincaid readability scores
Filed under: world news
Tags: #india, #oscars, #slumdog millionaire, #indians, #mumbai, #academy award
You may also be interested in these:
Green Protection for the Taj Mahal
Slumdog Millionaire's Big Haul at the Golden Globe Awards
Indian Army Battles Infiltrating Terror Groups in Kashmir
Water-Ice on the Moon?
Hockey Heroines