June 24: If you have ever visited an aquariam you would have noticed that the fish look plain bored. Their homes are not very exciting. Nor are the visitors terribly charged up. True, some aquariums are fairly well maintained, but the fact remains that they rarely attract hordes of visitors.
The government of Maharashtra has suddenly woken up to the fact that this is a fishy state of affairs. And it wants to make amends. So it has entered into a partnership with a Singapore-based company to create India's first underwater world, or oceanarium. The Taraporevala Aquarium, on Maine Drive, Mumbai, is all set to become a six-storied oceanarium.
Most people use think that an 'oceanarium' and 'aquarium' are the same. However, there is a difference. An aquarium, as we know it, keeps just a few species of fish in aquariums or tanks. Oceanariums, on the other hand, have a greater range of fish. These are kept in huge enclosed spaces that closely resemble the natural environment of the fish.
Oceanariums also organise regular entertainment shows – like performances by trained dolphins and seals. Officials say the Mariine Drive Oceanarium will have more than 400 hundred species of fish, including dolphins and sharks.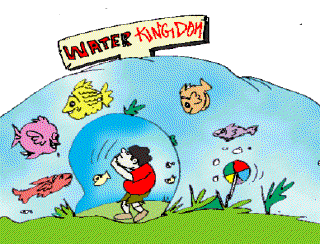 There will be a well-stocked library, a mini theatre and computer laboratory, where children will be able to satisfy their curiosity about the secret lives of the marine fish.
The Oceanarium's main attraction, however, will be the submerged transparent tunnel – the first of its kind in India! The tunnel will be below sea level and visitors will be able enjoy an undersea experience, with exotic varieties of fish swimming all around. Even below their feet.
This may appear rather incredible, but a portion of the sea will be enclosed in the oceanarium. Of course, Mumbai's dirty seawater will be purified before it is let into this fish enclosure. The project will begin by the end of this year.
330 words | 3 minutes
Readability: Grade 9 (14-15 year old children)
Based on Flesch–Kincaid readability scores
Filed under: world news
Tags: #india, #mumbai, #dolphins, #sharks, #tunnels, #aquarium
You may also be interested in these:
They Make you Swallow a Fish for a Herbal Cure
The Girl who Loved Danger
A Soldier's Death is a Soldier's Death
Excerpts From 'The world of trees'
Indians: Masters of Junk