September 30: Ten year-old Mohammad Zubair Arrian was playing in Medina Syedan, his village in the Punjab province of Pakistan. Suddenly, he met a mysterious red-bearded man. The stranger gave him something to eat. The next thing Mohammad knew, he had woken up in an airport.
For the little boy who had never stepped outside his village, it was the most scary moment of his life. But, somehow, he managed to escape. He roamed about the unfamiliar streets lost and crying, until a passer-by saw him and turned him over to the police, says a report in 'The Guardian' newspaper of Britain, which was published in 'The Deccan Herald'.
At the police station Mohammad learnt a horrifying truth. He wasn't in Pakistan, but thousands of miles away in Abu Dhabi, the capital of the United Arab Emirates.
Mohammad had been kidnapped and smuggled into Abu Dhabi to be a camel jockey.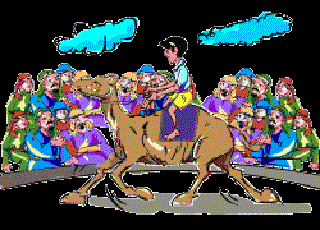 Camel-races are a favourite pastime of rich Arabs. They are like any other race except for one thing. Instead of adults, children are placed on the backs of the camels, and made to race. These racers are called jockeys.
Children are preferred over adults because being lighter, they don't strain the camels much. Children as young as four have been forced to race camels and risk dangerous falls. Several have fallen and been killed in the process.
Thousands of children like Mohammad from the poverty-stricken countries of Pakistan, Bangladesh and India, are smuggled into the richer countries of the Middle East. Some parents are so poor that they don't mind their children being taken for this purpose, if they get some money in return.
Mohammad is believed to have been kidnapped, drugged and smuggled into Abu Dhabi on a Pakistan International Airlines flight from Islamabad, on a forged travel document.
"When I opened my eyes, I was in a totally different world," said Mohammad. "The red-bearded man threatened to kill me if I made any noise. But as soon as he turned his back, I ran for my life," he told 'The Guardian' journalist. It was the most sensible thing to do for it allowed Mohammad to escape the clutches of the man and reunite with his father.
Despite an international ban on the use of jockeys under 15, camel racing by children is common in these countries. That is because the people who disobey these laws are rich. They use their power and money to make local authorities look the other way.
423 words | 4 minutes
Readability: Grade 7 (12-13 year old children)
Based on Flesch–Kincaid readability scores
Filed under: world news
Tags: #pakistan, #camels
You may also be interested in these:
Gurpurab – the birth of Guru Nanak
Historic Station Soon to be History
A New Camel Specie Discovered
Ride the Camel
Prized Skeleton in Museum Closet