July 15: It happened in Dhaka, the capital of Bangladesh. A man saw a few children abuse and fight each other, and break furniture. He asked them what they were doing. Giggling, the children replied, "We are acting out a Sangsad ( Parliament ) scene." It was a pretty good imitation of the unruly scenes in the Bangladeshi Parliament.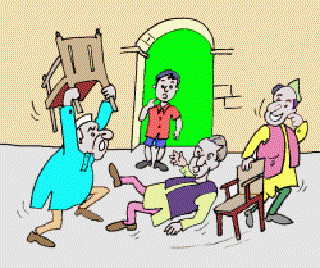 But Bangladesh President Shahabuddin Ahmed did not find the incident funny, however. And he decided to make public his displeasure while making a speech at the Science and Technology University in Chittagong.
The President told the gathering about the newspaper article. And he blamed the politicians, especially their behaviour in Parliament, for this state of affairs. "What would the students learn from them when the leaders are abusing each other?" the worried President asked. 'The Asian Age' had a report on this incident a few days ago.
But the President did not spare teachers either. He said they were equally responsible for the weakness in the education system. He pointed out that teachers did not take their classroom sessions seriously. They forced the students to take tuitions from them.
The President's message was clear. Adults, starting with teachers, were behaving in a way that children no longer respected them. What the president meant was that, starting with their teachers, children no longer respected adults. And politicians were on top of their list of people to make fun of.
247 words | 2 minutes
Readability: Grade 8 (13-14 year old children)
Based on Flesch–Kincaid readability scores
Filed under: world news
Tags: #bangladesh, #politicians, #parliament
You may also be interested in these:
Sir Winston Leonard Spencer Churchill