August 19: What happens when guests come late to school functions in the city of Surat, Gujarat? They are not invited a second time round. No prizes for guessing the identity of these guests – the city's politicians, of course.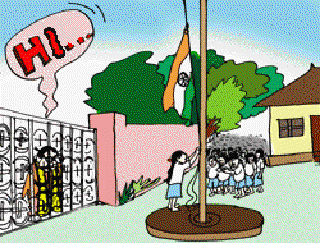 Politicians who come late to functions in Surat, known as the diamond city for its thriving trade in the precious stone, are a worried lot today. They are no longer invited to be chief guests at school functions in the city.
This has happened because 60 schools have taken up a project to promote punctuality. The schools have decided come what may, they will begin and end all school functions on time. And they want to ensure that all politicians get the message.
The name of this project is, 'Samaybaddhata Mateni Pratibaddhata'. Translated in English, this means, Commitment to Punctuality. Simply put, this tells politicians to either come to school functions on time — or stay away.
"When we do call them, we insist they should abide by the time-limit," said Shashikant Shah to 'The Indian Express'. Shah heads the Department of Education, South Gujarat University.
Now, we all know that politicians love attention. They love to see their diaries crammed with dates of functions they have to grace. They love to walk in horribly late for functions, knowing fully well that their hosts would have to wait. So what if the hosts in question are eager school children and their teachers? It is, after all, the only way to show how busy they are with affairs of the nation.
In fact, the late arrival in functions of the guests of honour is a peculiarly ill-mannered Indian way of conveying that they are important people. And there are many among filmstars, sportspersons, singers and artists who take great pleasure in showing their self-importance by arriving late for functions — like politicians.
But politicians are perhaps the worst offenders. And Surat is no different a city from the others. So when a politician, who was to distribute prizes, walked into a function felicitating meritorious students, 90 minutes late, Shah felt something had to be done. He wrote a letter to the newspaper complaining about the incident. Then he launched his project. Operation Punctuality had taken off.
District Education Officer, P.L. Dave, sent letters to schools asking them to participate. He says that the move was necessary as many teachers, too, came late. But most of the school functions he has attended in the recent past ended on time.
"I always finish my speeches in three minutes. If I can't convey my thoughts in three minutes, I have no business to give presidential speeches," he says.
The project has made quite a difference. Bhulka Bhavan School's Principal, Meenakshi Desai, is quite clear that she does not want ministers and politicians in the guest list of her school. The school gets either a senior teacher or a former student to preside over flag-hoisting functions.
The students, too, have been affected by this experience. The students of Kadiwala Bunki High School, who used to report late for some reason or the other, now feel compelled to arrive in time for school.
And politicians are actually listening. The former mayor of Surat, Bhikabhai Boghra, attended the annual function of Shantiniketan High School, right on time. He is all praise for the initiative. Punctuality instills discipline, he says.
Shah, the man behind the project, is happy at the success. He has launched many interesting projects for Surat schools. In 1998, the schools celebrated a 'Week without Television'. Students and their families were asked to stay off television for a week and do other things, like visit the park, go on an outing or just sit and chat.
This was followed by the 'Let's Read and Think Week', in 1999. Students read newspapers and books over six months, compiled 50 good articles and submitted the file to their respective schools. The success of these projects spurred Shah on to launch the project for punctuality.
The project is officially ending in December this year. But the schools are going to let it continue.
691 words | 6 minutes
Readability: Grade 7 (12-13 year old children)
Based on Flesch–Kincaid readability scores
Filed under: world news
Tags: #indians, #prizes, #politicians, #gujarat, #surat
You may also be interested in these:
Killing them Surely
The First Dream of a Soccer Star
Assam's Boys Shine in Asian Cricket
Space Tourism: Ready for a Skyrocketing Holiday
Where is the Rare Blind Dolphin Found?