May 11: Till five years ago, the Male Kudi tribals of Kodyadi, in the Western Ghats in Mangalore, lived in darkness. The government had never switched on to their needs. But now, thanks to their leader, Elyanna, the first graduate in the tribe, they have invented an ingenious method of electrifying their village – and their achievement has electrified the nation.
In 1995, when Elyanna returned from his educational stint at Ujire, his mind was teeming with ideas. The first idea was that of a cycle generator. Aluminium-coated tumblers were fitted around a cycle wheel. Since the mouths faced the water source, its force helped the wheel rotate. Hey presto! "The power was sufficient to light three bulbs," says Elyanna in an exclusive report by
The Indian Express. Best of all, it cost only Rs 100.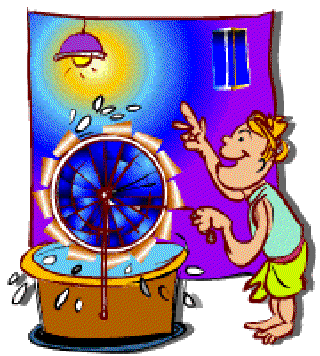 But it obviously was not enough to meet the village needs. So the team of Elyanna, his brother Manjanna, and friend, Srinivasa, decided to refine the invention.
This time the power generating unit was planned on a bigger scale. A small wheel supported by a bigger wheel faced a funnel-shaped cement tank full of water. The wheel was connected to a truck dynamo. To make sure that the water came out in a forceful jet stream, the team attached a pipe to the base of the tank. Since the mouth of the pipe was much narrower at the mouth, the water force was strong enough to light 10 bulbs!
They had spent Rs 5000 on the tank, excluding labour charges, and Rs 1000 on the wheel. Now the inventors are dreaming of lighting up all the 60 houses in the village.
A lack of funds has delayed their project somewhat, but the proud Male Kudis, who walk nine km to make a phone call and six km to buy their provisions, are determined to become 'powerful' with their own efforts.
324 words | 3 minutes
Readability: Grade 7 (12-13 year old children)
Based on Flesch–Kincaid readability scores
Filed under: world news
Tags: #wheels
You may also be interested in these:
What is the Secret of the Windmill?
Your Own Bus
How Does the Steam Engine Work?
The Wheel