September 23: Twelve-year-old Fatima Abdeljamid is creating waves at the Sydney Olympics and for all the right reasons. She is one of two Bahraini nationals and among the very few from the Middle East nations to compete in the Olympics.
Fatima, a swimmer, and Myriam al-Hili, an athlete, have been invited to the Sydney Olympics by the International Olympic Committee (IOC). It is a gesture that is meant to encourage Muslim women from Islamic nations to take part in the Games.
Neither Fatima nor Myriam have any hopes of winning medals. Nor is Fatima the youngest to participate; in the first Olympics of the modern age in 1896, Greek gymnast Dimitrious Loundrous was 10 when he and his team won a bronze.
"What is important is that they will serve as an example to other countries in the Gulf. They have potential, but you have to offer them the opportunity," said the Bahraini team coach, Mohammed Ali, in a report in 'The Indian Express'.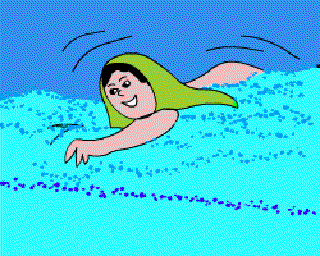 | >
Some of the conservative Muslim nations, including Saudi Arabia, feel that women's participation in sports does not fit well with the way in which they are supposed to lead their lives. They feel that their religion Islam does not allow women this opportunity.
The individual success of world level athletes like the fiery Algerian, Hasiba Boulmerka, in the face of great opposition, has only highlighted the problem.
There has been a lot of debate on this question in countries like Iran and Afghanistan. Iran and two-dozen other Islamic countries refuse to send women to international sports competitions.
They also forbid men and women from mixing in social and sports activities. At the 1996 Atlanta Olympics, only one woman from Iran took part in the target shooting. She was the first Iranian woman to participate in the Olympics since the 1979 revolution.
Last year orthodox Muslims opposed women from riding bicycles in public. They attacked men and women cyclists at the Chitgar sports complex near Teheran.
But some progress has been made in the last seven years in Iran over this issue. A 10-day Islamic Women's Games was organised in 1993 at Teheran, thanks to Faezeh Hashemi, daughter of the Iranian President Hashemi Rafsanjani. She reestablished women's sports in Iran. Faezeh led a campaign to reopen sporting facilities that were closed after the 1979 Islamic revolution.
Islamic countries can be divided into two groups: countries that ban female athletes from sports as they want to observe Islamic criteria and others which simply do not give sports any importance. Hashemi argued that sports should be a search for excellence and that women need the physical and mental benefits of sports to raise a healthy Islamic family.
With her father's support, Hashemi got Iran to sponsor the first-ever Islamic Women's Games in 1993. Sportswomen from 16 countries took part in the 1993 Games but eight Muslim states failed to show up.
All the foreign competitors wore the chador the head to toe covering required for women in Iran. Though it was a new experience for some of the participants to wear the chador, they felt that it was a small price to pay.
Events consisted of athletics, badminton, basketball, chess, equestrian events, gymnastics, handball, etc. Some events, such as equestrian, were open to male viewers because Iranian equestrians have designed a special horse-jumping chador for their female competitors.
Faezeh Hashemi admits that women participants are subject to some prohibitions, but she says she is pleased with the results thus far and hopes that the situation of women in other Islamic countries would improve by the next Games.
609 words | 6 minutes
Readability: Grade 9 (14-15 year old children)
Based on Flesch–Kincaid readability scores
Filed under: world news
Tags: #muslims, #olympics, #sports, #islamic, #nations
You may also be interested in these:
A Show of Endurance
An Olympics with a Difference
Swimming in Trouble
Why do We Cup Our Hands When We Shout?
Who or What is a Gladiator?