Where: Delhi, India
April 17, 2007: He does not look like Superman or Shaktimaan from any angle. Nor does he look like Batman or Spiderman. But 57-year-old Mahender Singh is a super hero in real life.
In December 2006, he stood on a railway track to stop a train speeding towards him. It was the only way to stop the train from going over the broken railway track and having a terrible accident. By doing this Singh saved the lives of thousands of people travelling on the train.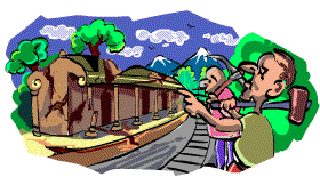 The great thing about his act is that he did not think he was acting like a 'super hero'. He was just doing his job as a railway employee. Singh works as a 'keyman'. His job is to inspect the tracks and see that they are in proper shape. He has to see that the nuts and bolts on the track are tight enough. The key is not a key but a spanner which is used to tighten the nuts and bolts. The keyman is in charge of the spanner and other tools that are needed to repair the tracks. He also has to make sure that there are no hindrances on the track – like rocks, cattle, or even people. For this he has to be alert all the time. One lazy moment can lead to a terrible tragedy.
Singh may have thought he was just doing his job but it is no wonder that he was given the Railways Award for bravery last week. His entire office feels proud of him. A report in The Indian Express says that saving lives has been something of a habit with Singh. He stopped a train in a similar fashion three years ago when he saw the railway track broken at one place.
A keyman's job is not easy work. Singh's 'office' on the tracks is spread across 16 kilometres in Delhi. He carries a bag of tools that weighs about 20 kilograms. It is a job that has to be done, whatever the weather – in scorching heat, in a thunderstorm or in bone chilling cold conditions. Singh is one of 40 keymen working for the Railways in Delhi. He has been working for the Railways for 37 years.
There are other risks as well. The newspaper report quotes Singh. "People throw food out of the compartments which lands on me and sometimes even when trains empty their toilet contents I get caught in it due to the high speed."
But Mahender Singh carries on with the utmost dedication. He proves the point that heroes are ordinary people who do extraordinary things.
447 words | 4 minutes
Readability: Grade 5 (10-11 year old children)
Based on Flesch–Kincaid readability scores
Filed under: world news
Tags: #railways, #trains
You may also be interested in these:
Historic Station Soon to be History
Why Does Time Start in Greenwich?
Life inside a Public Transport Vehicle
What does a Train Whistle tell us about the Universe?
A Train Journey beyond Childhood