October 21: Imagine the talent required to fold a single sheet of paper as many as 100 times, to create fantastic animals, birds, insects, celebrities, aircraft and gods! Actually this is an intricate art dating back to1000 A.D. Japan, where it was pioneered, and is called Origami.
And 12-year-old origamist Sivaram Narayanan, is a whiz at it, as visitors during his recent "one man" exhibition at the Lalit Kala gallery, in Chennai, Tamil Nadu, says a report in the Chennai edition of 'The Hindu'. As many as 300 of his works were shown.
There's much more to the youngster. He has made a habit of winning in the children's category of the international Origami Convention, held at New York every year, in which artists from 14 countries participate.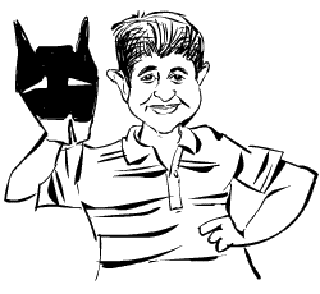 Having been on a winning spree at the Convention since the age of nine, he has now been honoured with a permanent exhibit of his works at the convention.
It is one reason why Sivaraman was invited as the sole Indian delegate to the international Origami Convention in New York this June.
He may have made it appear so, but Origami is no child's play. The art requires an in- depth understanding of shape and structure, says the report.
That is why some of the best practitioners of Origami have included celebrated sculptors, designers, architects and artists – people with a profound understanding of shapes and structure.
Sivaram's unusual artistic streak might have something to do with his unconventional upbringing. His parents, Narayanan and Janani, run a neighbourhood newspaper in Goa called 'Vasco Watch' and they prefer to let Sivaram study at home, through the National Open School, as they think that modern schools do not offer a creative environment.
So his imagination was given the freedom to be different. It is not surprising that at the age of six, he took to Origami like a duck to water. With no homework and exam tensions to bother him, the artist in him bloomed. Soon, he was creating exhibits like an Alexandria parrot with a crab, and the Hindu god Ganesh.
He hasn't stopped since and one suspects that the folds of paper will become more and more intricate with time.
375 words | 3 minutes
Readability: Grade 10 (15-16 year old children)
Based on Flesch–Kincaid readability scores
Filed under: world news
Tags: #chennai, #hindus, #artists
You may also be interested in these:
The Story of Diwali
The Magic Carpet
Ride the Camel
The Woman who Builds Sand Castles
Srinivasa Aiyangar Ramanujan