July 15: Five baby elephants were very sad. They were being returned to the forest. In fact, they broke into tears. But why were they sad to return home?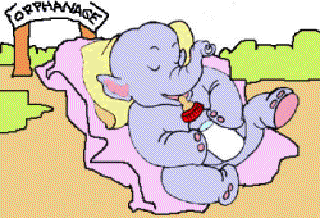 Because they had fallen in love with the orphanage they were staying in before they were returned to the forest. The men who had taken care of them were sad too. There were no dry eyes among them.
But why were they being returned? Orphanages are supposed to take care of little ones until they grow up.
Well, actually the place they lived in is not an orphanage. It is an elephant transit home in the jungles of central Sri Lanka. Abandoned babies are brought here and weaned. They are then allowed to roam about with older elephants so that they learn to search for food on their own. And not fed with leaves and bark like elephants in orphanages. They are encouraged to bathe themselves at the nearest watering holes. Everything is done in such a way so as to minimise the human contact except when one of them is sick.
When the babies were returned to the Udawalawe Nature Reserve, they were covered in elephant dung so that no human smell remained on them.
But, the pain of parting with the place, their friends there and the humans around was quite visible. Komali, the first baby elephant to be brought to the orphanage five years ago, was among the five who were returned. Her friend Isuru, who was also being returned, just refused to go. It took 20 men over 40 minutes to force him into the truck which was to carry them to the forest. It wasn't easy. Because the friends they were leaving behind did their best to prevent the men.
Elephants are supposed to be social animals. Friendly, playful, who easily get attached to people.
The elephant transit home was founded by a man called Nandana Attapattu. It is funded by the government's wildlife department and by people who pay a fee and adopt a baby elephant.
Many people had criticised Attapattu when he first started it. They said that baby elephants raised by humans would never acquire the skills needed by animals to survive in the jungle.
But The Indian Express reported that within two hours of their release, the baby elephants had joined a herd of elephants. Their progress was monitored with radio transmitters attached to their necks. It was found that they had adapted beautifully.
So the story of the five elephants ended happily. But the story of the thousands and thousands of elephants who lived in Sri Lanka once, is a sad one. They used to roam the wilds of Sri Lanka carefree and content. During British rule, they began to be seen as creatures who could be hunted at will for their shiny tusks, or just for fun. As time passed, they began to lose large parts of their habitat to humans. Only 3,000 remain today.
The war being fought in Sri Lanka has posed a new threat to their lives. A group of Tamil people have formed a strong army and are fighting with the Sri lankan government for land. But, in this war, the elephants have suffered as much as the human beings have. Elephant habitats are not theirs anymore. Many of those who have come to Attapattu's Home have lost their parents to landmines or bullets. Or were injured themselves.
But now, it seems like there is hope. Elephants who lose their parents have a place to go to where they are cared for and looked after.
606 words | 6 minutes
Readability: Grade 6 (11-12 year old children)
Based on Flesch–Kincaid readability scores
Filed under: world news
Tags: #sri lanka